Record of abrupt change to global climate uncovered in Antarctic ice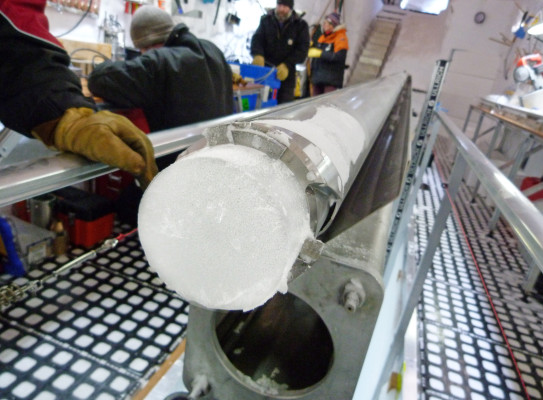 Dust carried by westerly winds to Antarctica 32,000 years ago has revealed a rapid shift in the westerlies towards the equator, providing new evidence of the existence of thresholds in our climate system.
The Southern Hemisphere westerlies play a big part in Aotearoa New Zealand's weather, greatly influencing our rainfall and storms. We know that the current global warming trends are already causing changes to the position and strength of these westerlies, now new research(external link) has shown that during the last ice age, the westerlies made an abrupt shift northward, over years or decades. These findings indicate our climate doesn't always shift in a linear fashion, and significant changes can occur within a human lifetime.
The international team, including GNS Science and Te Herenga Waka – Victoria University of Wellington climate scientists, analysed dust concentrations in samples from the 764-metre-long RICE (Roosevelt Island Climate Evolution) ice core from Roosevelt Island in the Ross Ice Shelf, West Antarctica.
Along with the shift in the wind, other data shows that subsequently there was a weakening of the upwelling of carbon-rich deep ocean currents, and a decrease in atmospheric CO2, suggesting that once the threshold was reached and the wind shifted, the global carbon cycle was affected. Regionally, the change in the westerlies appears to have brought more precipitation to New Zealand that, together with a colder climate, resulted in the glaciers advancing.
"When the westerly wind belt shifts, it changes the way ocean currents move. This can alter the amount of carbon dioxide brought to the surface to be released into the atmosphere, which has a global impact," says Abhijith Ulayottil Venugopal, the study's lead author and a Postdoctoral Fellow from Te Whare Wānanga o Waitaha | University of Canterbury.
Venugopal says that the highly-resolved ice core record shows us that our past climate system had natural thresholds at which change occurs very rapidly – something we need to be aware of when looking into the future in a warming world.
"Thresholds in the climate system are something we are still trying to understand, and our findings provide strong insights into their role in rapid change and the potential consequences," says Venugopal.
Though the study was unable to pinpoint what triggered the shift, Venugopal says that it could potentially be linked to changes in sea ice. The RICE record shows that there was an increase of sea ice in the Ross Sea sector of Antarctica at that time. Since the Ross Sea is a major location for upwelling of warm water from deep beneath the surface, it is pivotal for global heat distribution, and an increase in sea ice holds major implications.
Co-author Giuseppe Cortese, GNS Science paleoclimate scientist, says this research is part of a wider effort to look at past time intervals for clues on the behaviour of important climate drivers such as the Southern Hemisphere westerlies.
"These shifts have important consequences for the global climate system and have an impact on New Zealand. They affect the currents that transport heat around the ocean, and influence regional temperature, precipitation, and storms over New Zealand," says Cortese.
RICE Chief Scientist Nancy Bertler, from GNS Science and Victoria University of Wellington, says the study is particularly timely as Antarctica is experiencing remarkable and concerning extreme climate events that have the potential for cascading impacts with global consequences which are not yet captured or predicted by models.
Roosevelt Island Climate Evolution (RICE)

The Roosevelt Island Climate Evolution (RICE) project is a nine-nation collaborative science venture led by New Zealand. Over three years, a deep ice core was extracted from Roosevelt Island in the Ross Dependency, with field operations supported by Antarctica New Zealand and the US Antarctic Programme (USAP).

The RICE project aims to investigate the stability of the Ross Ice Shelf and the West Antarctic Ice Sheet in a warming climate, and to better understand implications for global sea level change. The RICE core was processed and analysed with partners from around the world at the National Ice Core Research Facility in Lower Hutt, producing terabytes of data from real-time measurements and over 100,000 discreet samples.
Find more content related to:
GNS Science areas
GNS Science topics