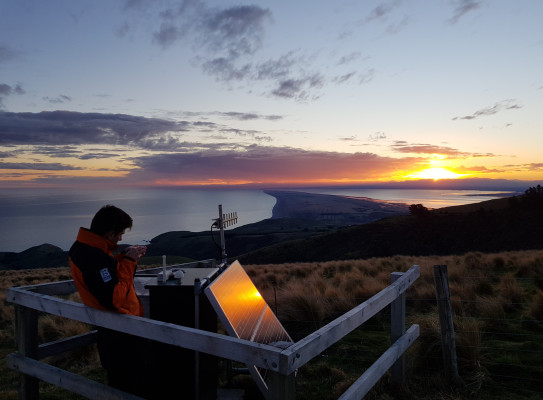 GeoNet provides New Zealanders with high quality open data for research and monitoring on earthquakes, tsunamis, volcanic activity and landslides.
GeoNet is operated in partnership with Toka Tū Ake EQC, Toitū Te Whenua Land Information New Zealand and GNS Science.
GeoNet is always 'on'
GeoNet uses remote and on-site methods to acquire and transport data about earthquakes, landslides, tsunamis, and volcanoes. We deploy, maintain, and upgrade a range of instruments and infrastructure in a network of over 1000 monitoring instruments in 700 locations.
GeoNet collects and monitors 24/7 data and responds to geohazards in New Zealand.
This starts with a country-wide network of sensors that transmit their data to the GeoNet Data Management Centre (DMC) where it is analysed by automated processes, and made available to the public, science researchers and hazard analysists.
Then we have the National Geohazards Monitoring Centre | Te Puna Mōrearea I te Rū (NGMC), which ensures a 24/7/365 situational awareness of geohazards. The centre works with on-call science staff and expert panels who provide enhanced monitoring and escalation during geohazard event responses. Together, they support GNS Science in its role as a support agency in a geohazard event, providing prompt expert advice and intelligence about hazard events to external agencies, primarily NEMA.
How does GeoNet monitor...