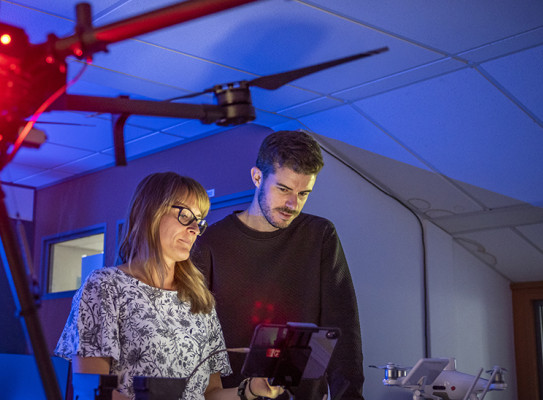 Our people connect and contribute across the science system, in Aotearoa New Zealand and around the world. Every single person at GNS Science makes an important contribution to science and society.
We aim to be the employer of choice in the Earth sciences sector. We achieve this by fostering a positive and collaborative culture, delivering high-quality and respected science, investing in our people and providing a safe, diverse and inclusive workplace.
Working at GNS
Our culture

We love to discover and learn. And because we want our people to be able to deliver transformational science, we invest in their life-long learning.
We promote connections across the science network.
We grow great leaders through our Tūhono Leadership Development Programme.
We support innovation, enquiry, input and engagement. Communication is a two-way street at GNS

Science.

We recruit for now and the future. Our recruitment programmes include early-career, Māori Internships and summer student programmes.
Organisations work best when they reflect the diversity within their communities. We actively seek to create and promote a diverse and inclusive environment

(external link)

and our efforts are guided by our Diversity and Inclusivity Committee, which ensures all GNS voices and viewpoints are heard, respected and considered.
We celebrate success. And because so many of our people contribute so much to science and society, there's quite a bit of celebrating that goes on around here!

Health and Safety

When it comes to the health, safety and wellbeing of our people, GNS Science starts with the basic premise that everyone has the right to come home from work healthy and safe.

We do everything we can to ensure this happens for all of our people, every day.

We start with a meaningful and effective Health and Safety Policy, which outlines our deep commitment to H&S procedures, actions and measures. H&S is built into our culture – it's part of our induction programme, it gets talked about at team meetings, it is planned, shared, discussed and reported on when we're working in the office, analysing material in the lab, ice drilling in Antarctica, or monitoring geothermal activity out in the field.

Our commitment to sustainability

As one of Aotearoa New Zealand's leading environmental research agencies, GNS Science is committed to acting in an environmentally ethical and responsible manner and supporting an environmentally conscious culture. We 'walk the talk' in all that we do - and we're careful about minimising and mitigating the impact of our operations on the environment.

We actively promote care for the environment through our Environmental Policy, site-specific environmental initiatives and by engaging our people via representation on our Environmental Sustainability Committee.

Our labs and facilities not only foster amazing ideas and transformational science, they're also a big part of our efforts to reduce carbon emissions. Our goal is a year-on-year reduction of 4%, with a cumulative target of 20% by 2025.

In 2018, GNS signed up to Toitū carbonreduce(external link)(external link), a world-leading certification scheme which helps businesses accurately measure their direct and indirect greenhouse gas emissions.

We publish an annual Toitū Carbon Reduce Emissions Summary' which demonstrates our efforts and progress towards meeting these targets. You can access the latest report here.

The land we live on now is the land on which future generations will live. It's our responsibility, our kaitiakitanga, to ensure it's safe and sustainable.

Learn about our Early Career Network

The Early Career Staff Network (ESCN) aims to empower Early Career Staff (ECS) and support their connection and career development. We focus on empowering GNS Science to grow as a diverse, inclusive, innovative and agile organization.