Early Career Staff Network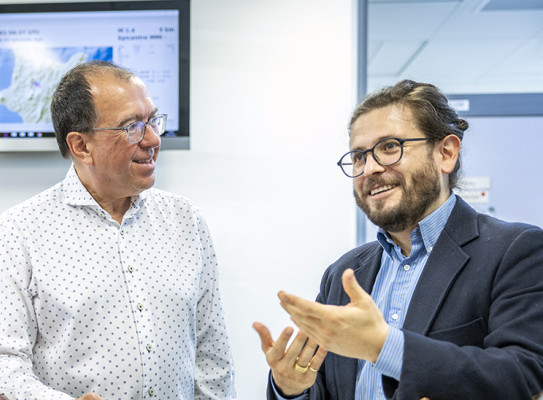 The Early Career Staff Network (ECSN) aims to empower early career staff and support their connection and career development. We focus on empowering GNS Science to grow as a diverse, inclusive, innovative and agile organization.
The ECSN aims to make and maintain GNS Science as a great place to work as an early career professional.
Our network and its role
The role of the ECSN is to communicate early career staff interests, engage in the implementation of solutions, and contribute to future decision-making, ensuring the voice of early career staff are represented in GNS strategy.
Meet this year's ECSN Council
The network is governed by a council composed of a diverse group of early career staff. The council is selected to be representative of all early career staff at GNS Science and is supported by two co-leaders who are elected at the yearly AGM by the ECSN membership.
Ery Hughes
Volcanic Fluid Geochemist
View bio
"I joined the council to highlight topics early career staff are passionate about to GNS and beyond, especially surrounding increasing diversity, equity and inclusion. Our voice is important – we have unique perspectives, great ideas and lots of drive – and its critical we have the opportunity to express them, particularly with big changes on the horizon such as Te Ara Paerangi!"
Jacob Pastor-Paz
Natural Hazards Risk Modeller
View bio
"I joined the council with the aim of supporting the development of early career staff. The work of the council can equip new cohorts/generations of early career staff with advice, guidance and tools to optimally settle and thrive in GNS. The council and the network are a space to promote capability development, the value of diversity, cultural exchange and engagement."
Michelle Cook
Energy Materials Scientist
View bio
"I found a lot of value in the ECSN from very early on in my time here at GNS. The network provided me with connection and support, and I am very happy to be on the council and contribute to connecting and supporting other early career staff."
Karl Laurence
Laboratory Technician
View bio
"I joined the ECSN council to contribute to the voice of our early career staff at Wairakei! On site, we have a great mix of industry and academic mainstays and early career staff, and it's great to be able to generate some community among and between these networks. To me, the early career voice is rich with fresh perspectives and novel ideas that can challenge the established ways of working."
Conrad Burton
Network Operations Specialist
View bio
"Sitting on the ECSN council for my second term, I am proud to represent the early career voice at GNS. I'd like to help enable stronger connections and opportunities for early career staff throughout the organisation, particularly around the science operations to research space. A collective and inclusive early career approach is paramount to the future of GNS, so don't shy away from engaging with the network!"
Rachael Pritchard-Thorsen
NGMC Operations Coordinator
View bio
"I joined the ECSN council to make sure that early career voices are represented within and outside GNS. It's great collaborating with other passionate people on workstreams with the aim of helping to get early career staff connecting and supporting each other."
Rachel Lawson
Social Science Technician
View bio
"I joined the council to represent specialists and technicians who play an important part in the research cycle but may be inadvertently overlooked in ECS discussions. I'm excited to be meeting new people in different departments/sites at friendly and fun events. ECS voices as a collective have the opportunity to shape and enact change in the system we work in, now and for the future."
Sepideh J Rastin
Earthquake Data Scientist
View bio
"ECSN is the future of GNS. We all have the potential to become future GNS leaders and managers. To be prepared for the future, we need to develop our connections with current Theme Teams. By joining the council, I am hoping to facilitate these connections. I also wish to support ECSN with submissions for the available capability development funding (CDF), especially my female colleagues in science, because I believe CDF projects are the best starting point to develop something amazing. "
Lesley Wild
Communications Advisor
View bio
"Joining the ESCN helped me connect to a network of brilliant and motivated minds! I joined the council this year to build both our internal and external communications capabilities. I am hoping to share my skills and learn from our other bright minds – particularly on how to advocate for early career needs in science."