The National Geohazards Monitoring Centre for New Zealand
Te Puna Mōrearea i te Rū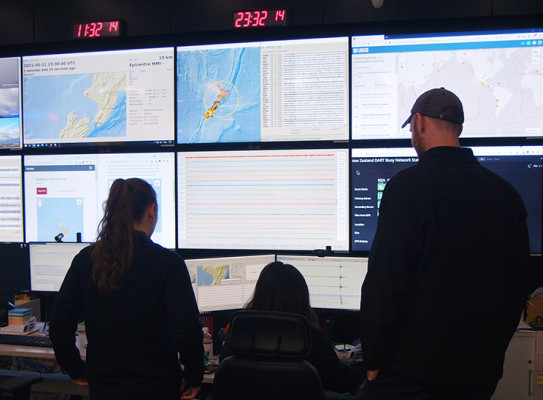 Opened in December 2018, the National Geohazards Monitoring Centre (NGMC) provides around-the-clock eyes-on monitoring of geohazards in New Zealand including earthquakes, tsunami, volcanoes and landslides. It is the first operation of its kind in the world to monitor all four hazards in one facility.

What we do
The NGMC's role is to monitor and respond to natural hazard events, understand where the event has occurred, what the consequences of that event might be, and get that information to the people who need to make decisions and act quickly. The NGMC is staffed by Geohazards Analysts (GHAs) and they have their eyes on the screens around the clock. The GHAs ensure that any potential threat to NZ is assessed immediately and escalated to GNS Duty Officers and NEMA where necessary. That means we have rapid analysis and response initiation when required.
Did you know

The NGMC detects and locates between 20,000-25,000 earthquakes each year! – the most frequent geohazard event in New Zealand.
Monitoring the Data
As part of the GeoNet system, the NGMC receives live feeds from sensors located all around Aotearoa NZ, as well as data from international stations.
Earthquakes are monitored using a nationwide network of more than 500 seismic and strong motion sensors.
Landslides are forecast based on recent earthquake shaking measured by GeoNet sensors or on forecast rainfall. Reported landslides are collated, including observations from the public.
Detection of tsunami is supported by the same nationwide network used to detect earthquakes, as some earthquakes have the potential to generate tsunami. The DART Network (deep ocean tsunami sensors) and tsunami gauges located close to New Zealand's coast record tsunami signals directly and are used to confirm a tsunami is coming as well as monitor waves as they reach New Zealand. We also receive alerts from international organizations such as the Pacific Tsunami Warning Center, who incorporate data from our sensors in order to refine their calculations.
Volcanoes are monitored using seismic signals recorded by regional networks of seismic sensors, ground deformation measurements, gas and water chemistry, and visual observation through cameras or fieldwork.
The NGMC and each of the perils (earthquake, landslide, tsunami, volcano) are supported by a wide range of research from scientists at GNS and collaborators, a communications team who help get information out to the public and stakeholders, and an application support team who work to ensure critical GeoNet systems are always up and running.
Did you know

The NGMC doesn't just locate earthquakes; we have also detected Rocket Lab launches, lightning strikes, army detonations, quarry blasts, and even a house explosion in Christchurch.
Powered by Data and Science
The first point of escalation for the NGMC is on-call duty officers who are GNS scientists, and, depending on the threat, panels of science experts are also convened to advise on tsunami, landslide, volcano, and earthquake events.
The work the NGMC does to support GNS Science (and vice versa) and NEMA in their response to geohazards events is key, and with a significant event, every second counts – meaning the work of the NGMC could help save lives.
The NGMC also monitors data gathered by international agencies, including the United States Geological Survey (USGS), ORSNET (Oceania Regional Seismic NETwork), NOAA (National Oceanic and Atmospheric Administration), the Intergovernmental Oceanographic Commission (IOC), the Pacific Tsunami Warning Centre (PTWC), and Geoscience Australia (GA), to ensure awareness of international geohazard events that could impact New Zealand.
Did you know

Since GHAs on duty must remain within 45 seconds of the operations centre at all times, the NGMC is also equipped with a lounge area including a full kitchen where GHAs can prepare their meals and relax.
Our team
The NGMC operates 24/7 and is staffed by a tight-knit team of dedicated Geohazard Analysts (GHAs); their core values emphasise mutual support and psychological safety in what can at times be a high-pressure environment. The GHAs come from a variety of Earth Science/Geographical backgrounds and experience, they have been trained to work with specialised software to assess and respond to the geological hazards which may pose a threat to New Zealanders. They are supported by some of the world's best scientists working at GNS Science.

GHAs are organised into five teams, or shifts, of four GHAs, and work a ten-day cycle; six days on, four days off. Each team is led by an experienced GHA who takes the role of Shift Leader and is supported by additional staff members.
The NGMC is located in a purpose-built facility within the GNS Science campus in Avalon, Lower Hutt. In an emergency, operations can fail over to other facilities in Lower Hutt, and the centre has a backup facility at GNS Science's Wairakei site. We also have an arrangement with Geoscience Australia to monitor earthquakes in New Zealand remotely on our behalf if needed.