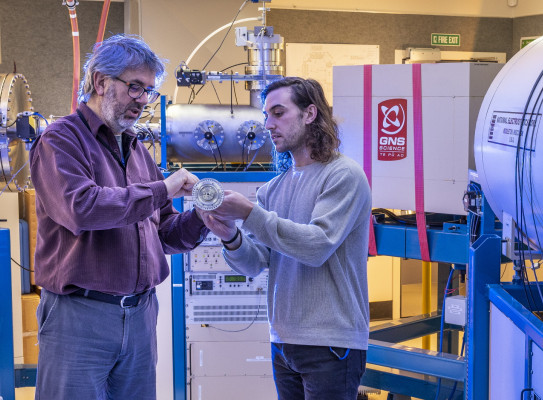 The carbon cycle in Aotearoa New Zealand is changing as the planet warms. We need to increase our understanding of what this means for our way of life.
Understanding the full carbon cycle will ensure that we act to reduce global levels of CO2 in the atmosphere.
Our research seeks to:
Develop granular emissions information for NZ that is usable by decisionmakers to target mitigation actions
Build a comprehensive understanding of New Zealand's carbon sinks
Model the response of geophysical processes to changing levels of atmospheric carbon
Our research
Key questions driving our research include:
Where and from what sources do emissions occur, and how do our planning decisions impact those emissions?
How do we integrate understanding of the broader carbon cycle into New Zealand's approach and response to climate change?
Can we define the true environmental impact of energy generation?
Radiocarbon as a tool

Radiocarbon (14C) measurements are an excellent tool for investigating CO2 emissions and their ultimate fate. We use 14CO2 measurements over the Southern Ocean as a diagnostic for understanding the mechanisms of ocean carbon exchange. Our laboratory uses measurements of 14C in CO2, along with atmospheric transport modelling, to quantify fossil fuel CO2 emissions into the atmosphere at various scales, including individual power plants, urban areas and entire countries and regions.

The Southern Ocean carbon sink

CO2 emissions are the primary driver of global warming, yet there are gaps in our understanding of the rate of emissions and in the resulting build-up of CO2 in the atmosphere. About half of the fossil fuel CO2 emissions into the atmosphere remains there. The remainder is absorbed into the oceans and terrestrial biosphere. The details of this uptake are still uncertain but critical for predictions of future climate change. The Southern Ocean, in particular, is a strong "sink" for human-produced CO2, yet it is possible that climate change will reduce its capacity to absorb that CO2 – a positive climate change feedback.

Reduce emissions and increase our understanding of carbon dioxide

We must achieve net zero atmospheric carbon emissions by 2050 to avoid a dangerous increase in global mean surface temperature (> 2°C above pre-industrial levels). Knowing what our current emissions are is key to mitigating them. Transitioning from fossil fuels as an energy source is key, but we must also avoid actions that turn our natural carbon sinks into a source of carbon. We must also identify parts of our carbon system that could be used to sequester and store carbon as we strive to remove excess CO2 from the air.

Energy generation in Aotearoa New Zealand has a history of significant environmental impacts. We need new energy developments to replace fossil fuels in the energy mix. We must understand the full consequences of these developments, including changes to land, biosystems, communities and natural systems such as the carbon cycle.