Stable Isotope Laboratory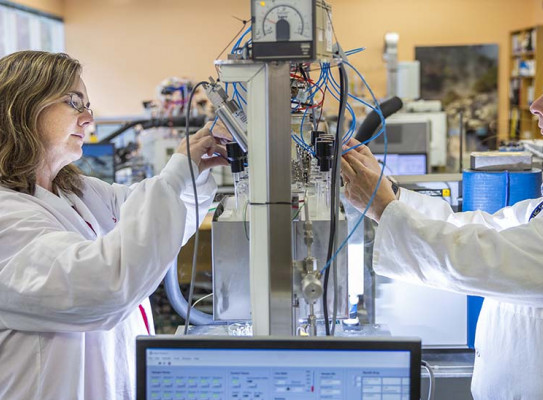 As New Zealand's leading Stable Isotope Laboratory, we have extensive experience in the analysis of carbon, nitrogen, sulphur, oxygen and hydrogen isotopes by mass spectrometry.
New Zealand is considered by many geoscientists to be a natural laboratory and thus offers many research opportunities. Stable isotopes provide data to help us understand how natural processes occur, such as:
unravelling climate history from ice cores and terrestrial, lake, and marine sediment
understanding the formation and characteristics of rocks and their associated geological resources
discovering how geothermal processes provide energy and minerals that are essential for a modern economy
tracing sources of groundwater and investigating sources of contamination in groundwater (e.g., nitrates)
authenticating natural products.

Our expertise
We have more than 60 years of experience in high quality light stable isotope analysis of gases, liquids and solids, and we can assist you in project design and analysis across a wide range of disciplines.
Environmental Science

Contamination tracking
Soils and ecosystems

Geology and Geochemistry, including:

Hydrology
Volcanology
Geothermal resources
Earth Resources (i.e. ore deposits)

Past and present climate change
Authentication, provenance and heritage studies
Our Clients
The Stable Isotope Laboratory has strong connections with research institutions, local and international universities, government agencies and industry representatives. We offer pay-for-service analyses and research collaboration to clients across virtually all sectors domestically and internationally.
We welcome collaborative research proposals, as well as the opportunity to assist and contribute to research design.
Our Location
The Stable Isotope Laboratory is located within the National Isotope Centre (NIC) in Gracefield, Wellington.
What Are Stable Isotopes

From understanding the diets of prehistoric people, to exploring climate and environmental issues, GNS Science's Stable Isotope Laboratory plays a pivotal role in numerous areas of research.

Isotopes are atoms with the same number of protons and electrons, but different numbers of neutrons. This gives them different atomic weights for the same atomic number.

Stable isotopes occur naturally and are not radioactive. While the isotopes of an element have similar chemical behaviour, during certain processes the ratio of heavy to light isotopes change. The isotopic ratio can reveal where the material is from, what processes it has gone through, and how much it has changed.

Find out more here: Stable Isotopes Brochure.pdf (PDF, 703 KB)

Our Equipment

Throughout its existence, the laboratory has been continually developing and keeping up-to-date with instrumentation, from the original homemade George Page deuterium mass spectrometer and NAA gifted from the USA government, to a VG-SIRA, Micromass 602, Micromass-1202 and a Europa scientific 20/20.

Today we have four Isoprime isotope ratio mass spectrometers. Two are equipped with dual inlets capable of analysing gases, carbonates and water, and our continuous flow interfaces include several elemental analysers (EA) for 13C, 15N and 34S.

The laboratory houses high temperature EA's for 2H and 18O, a ChromHD system for 2H from water, and a GC-C-IRMS and Pyrolysis for compound specific 13C and 2H.

We have an automated pre-concentrator for N2O and CO2 and a Los Gatos cavity ring down instruments for measuring 2H, 18O, 17O in water and vapour.

Complementing the suite of instruments in our laboratory, we have three offline laboratories used for sample extraction and preparation. Some of our capabilities include:

extraction of sulphate and sulphides from water
chemical conversion of nitrates and ammonia in water for 15N and 18O analysis
protein extraction from natural products
a CO2-laser/BrF5 vacuum line to extract oxygen from silicate and oxide minerals
and low level sulphur extraction from organics using a PARR bomb or inorganics from soil using KIBA techniques developed by B W Robinson and J H Hulston, pioneers in stable isotope research.

Finally, having access to onsite mechanical and electronic engineers keeps the instruments serviced and allows us to develop bespoke interfaces such as our CO2 collection device for 14C samples.

Verification

Each year, our laboratory performs highly in multiple international interlaboratory comparisons, such as WEPAL, FIRMS and International Atomic Energy Agency (IAEA) calibration tests. In the past, we have made and supplied International Standards to the IAEA.

Submission Documentation

Please contact us for your Sample Submission Form and Import Permit


Sample Submission Form
All samples should be accompanied by a printed copy of our Sample Submission Form with sufficient documentation to identify each individual sample. A copy of the Sample Submission form should also be emailed to stableisotopes@gns.cri.nz prior to shipping.

MPI Import Permit
Samples sent from outside New Zealand MUST be accompanied by a copy of our Import Permit. Failure to do this may result in your samples being delayed on entry into New Zealand. Do not send your samples without the permit.

Please print and attach the Import Permit with the shipping paperwork on the outside of the package. You can also write the Import Permit number on the package, so it is easily seen.

How to Send Samples

Use courier or registered post. Trackable courier despatch or registered post is recommended, and samples are acknowledged on receipt by us. If courier firm insists on a value for the contents use $1.00. Label package as: "Samples for destructive Scientific Analysis - no commercial value".

Send samples to:
Attn Andy Philips
GNS Stable Isotope Laboratory
GNS Science
30 Gracefield Road, Gracefield
Lower Hutt 5010
New Zealand

Contact phone number for courier packages: +64 4 570 4637

Please email stableisotopes@gns.cri.nz and notify us of any incoming samples.

Reporting times

Results are usually reported within 4-6 weeks after receipt of samples. Reporting time may be longer for large batches of samples or if the nature/size of the material is such that special processing/ measuring methods are required.

Please contact the lab for current turnaround times.

Contact phone number for courier packages: +64 4 570 4637
Please email stableisotopes@gns.cri.nz and notify us of any incoming samples.

Price List and Payment

Preparing Pre-weighed Samples

We accept pre-weighed samples for some analysis. Please contact us for details and pricing.

Click here (MP4, 10 MB) to view how to fold a capsule.