Rafter Radiocarbon Laboratory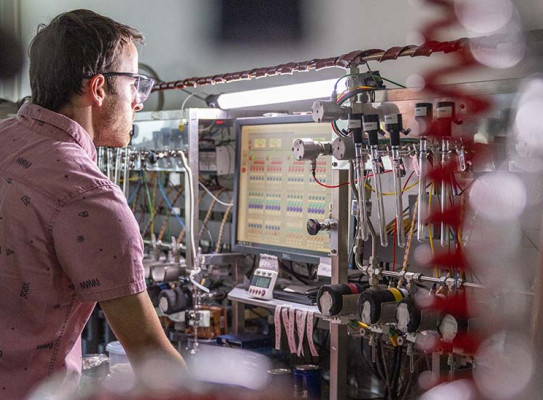 The Rafter Radiocarbon Laboratory is the oldest continuously operating radiocarbon facility in the world.
The work we do addresses issues of importance to New Zealanders. It has practical applications for government, industry and communities needing to understand and address climate change and wanting to move towards a carbon-zero future.
Our expertise
We provide radiocarbon preparation and AMS measurement, research design and data interpretation services across the Earth sciences spectrum, including:
Atmospheric studies
Archaeology
Climate research
Oceanography
Geology
Earthquake and volcano research
Marine biology
Carbon dynamics
Antarctic research
Dating antiquities
Our equipment
We operate an NEC XCAMS instrument, installed in 2010, capable of beryllium-10 and aluminium-26 measurements, in addition to radiocarbon. Our state-of-the-art sample preparation laboratory supports a variety of physical and chemical pre-treatment techniques. Samples are prepared to CO2 gas by combustion, hydrolysis or CO2 extraction and graphitised using the iron-hydrogen method prior to measurement.
Our laboratory can accept most common sample types, as well as specialist services:
Organic macrofossils, charcoal, wood
Inorganic shells, forams and carbonates
Sinters, pollen
Water/seawater
Whole air for measurement of

14C from atmospheric CO2
Ramped pyrolysis/Py-GC-MS dating
With prior arrangement, we can also accept samples that are partly or fully prepared in another laboratory (pre-treatment, CO2 gas, graphite).
Historic radiocarbon results

Every radiocarbon measurement made in our laboratory is archived. We are in the process of providing a publicly accessible archive, and until then, data for prior measurements can be provided on request. Recent results (last 10 years) require permission from the original submitter, older results are immediately shared on request.
Results provided prior to the 1977 international agreement on Radiocarbon Reporting Conventions were originally reported relative to in-house standards. All results have now been recalculated according to the international conventions, and anyone intending to use or publish such data should contact us to obtain the updated values.
To obtain copies of prior results please contact us via our email form with all available sample information.
Data quality
Our results are typically reported with 0.2-0.3% precision, equating to ±15-25 years for Holocene samples. We provide high precision measurement of 0.1 – 0.2% routinely for atmospheric samples and on request for other sample types. Lower precision is obtained for very old and very small (<0.3 mg C) samples.
We continually monitor our data quality through regular radiocarbon intercomparison activities.
Our clients

We provide a full radiocarbon dating service for a range of government, research, resource management, commercial and international clients.
Our location
The Rafter Radiocarbon Laboratory is located within our National Isotope Centre (NIC) in Gracefield, Wellington.
Sample Types

Samples can be submitted as:

Original material for full laboratory processing. Our sample preparation laboratory is experienced in handling a wide range of materials. We can advise you on the suitability of particular types of materials for radiocarbon dating, and we will be happy to discuss with you the most suitable way of taking a sample and packaging it to send to our laboratory.
Pretreated samples ready for combustion. The Rafter radiocarbon laboratory accepts samples of organic materials that have been pretreated by other laboratories. When no further pretreatment is required we offer a lower price for pretreated samples which still require combustion, graphitisation, AMS measurement and data analysis. However we reserve the right to charge the full price if we determine that further pre-treatment is required to proceed successfully and the client must acknowledge that we are not responsible for any contamination introduced into the sample due to laboratory procedures outside our control. Clients should contact us in advance of sample submission, so we may review the planned sample preparation procedure for any possible sources of 14C contamination, confirm that the sample pretreatment procedure is sufficiently effective, and make recommendations on number and types of processing blanks to be included.
Clean CO2 gas sent in break-seal tubes. We can accept 6mm and 9mm outer diameter sealed pyrex or quartz tubes between 16 and 20cm in length. The preferred amount of CO2 is approximately 2mg of Carbon or 4mls of CO2 at STP. For alternate tube sizes up to 15mm outer diameter please contact us. Some ideas for packaging for shipping include placing wrapped tubes inside rigid plastic tubing e.g., polythene piping. Taping the tubes to bubble wrap at regular intervals and rolling into a cylinder is another option. This can then be placed into a solid cardboard mailing tube or a rigid cardboard box.
Graphite, ready for pressing into cathodes or already pressed in SNIC-MS cathodes for insertion into the AMS wheel. We can advise on the best way of sending the graphite or cathode. Generally, it is advisable to send some test samples first, to ensure that your graphite will give a satisfactory output in our ion source. Guidance on how to populate the 40 position SNICS wheel with unknowns, blanks and standards can be found

here

(PDF, 52 KB)

.

Sample Sizes

Ideally, samples should yield 1mg of carbon after processing, and the corresponding amounts of sample material are typically as follows:

| | |
| --- | --- |
| Material | Amount Required |
| Bone | 500 - 3000mg, (Depending on condition) |
| Charcoal | 10 - 50 mg. |
| Peat | 100 - 1000 mg (Depending on carbon content) |
| Sediments | 1 - 3 g (Depending on carbon content) |
| Shell & forams | 10 mg |
| Textile | 15 mg |
| Wood, cellulose | 50 - 300 mg |

Peats and Sediments - The carbon content of peats and sediments can vary greatly. 90 mg of a peat which has a 10% organic carbon content would yield sufficient material for dating, while a sediment which is only 0.1% organic carbon might require almost 9 grams. If you are unsure of the carbon content of your sample, please contact the laboratory before submitting so we may discuss size and treatment procedures which vary depending on the fraction you wish to date.

The minimum quantity for our standard measurement is 0.2mg of graphite. Samples less than 0.2mg graphite are known as "small" samples. Down to 0.05mg of graphite may be measured, but the precision of the results will suffer as a consequence, the reporting time will be >12 weeks (up to 16 weeks) and the price will be greater (a 30% surcharge will apply, and extra charges for partial processing should samples be withdrawn). Please contact us for advice on radiocarbon@gns.cri.nz or by using the form at the bottom of this page. We would contact you before completing processing should it become clear that the sample will realise <0.2mg graphite.

Submission Documentation

Please contact us for your Sample Submission Form and Import Permit

Sample Submission Form
All samples should be accompanied by the Sample Submission Form with sufficient documentation to identify each individual sample. This would include the nature of the sample material, full name and contact details of the submitter and where applicable additional information for the purposes of invoicing e.g.. Order numbers.


Treatment History
Details of any prior treatment of the sample, such as cleaning, drying, treatment with solvents or preservatives, or any repair work should also be supplied. The relevant information can be supplied via our Sample Submission Form, or copy can be emailed or faxed to you on request.

A copy of the Sample Submission form should also be emailed to radiocarbon@gns.cri.nz prior to shipping.

MPI Import Permit
Samples sent from outside New Zealand MUST be accompanied by a copy of our Import Permit. Failure to do this may result in your samples being delayed on entry into New Zealand. Do not send your samples without the permit.

Please print and attach the Import Permit with the shipping paperwork on the outside of the package. You can also write the Import Permit number on the package, so it is easily seen.

Other Permits
Import of Convention on International Trade in Endangered species (CITES) samples to GNS Science.

Animal and plant species covered by the Convention on International Trade in Endangered species (CITES) are categorised in three appendices according to the degree of protection they need. CITES is implemented at New Zealand's border by the New Zealand customs service (NZCS) and Ministry for Primary Industries (MPI). Samples that are protected by the CITES convention need appropriate documentation to be able to travel between countries.

If you want to submit samples that are protected by CITES, or you believe they could be, please contact the laboratory in the first instance to make enquiries and to obtain the correct documentation before sending samples to New Zealand. You will need to supply supporting documentation about the items including provenance and reason for importing for the application. The laboratory will apply for CITES import permit and supply you with our sample import permit. Please note you are responsible for obtaining the correct export permit for your location to send samples to New Zealand.

Please refer to CITES Appendices I, II, and III for further information about what species are protected.

How to Send Samples

Send dry samples, where possible. Bacterial activity in wet samples can affect the final 14C age. Use a low temperature oven which has never been used for radioisotope experiments. Cover samples with lightly perforated foil and heat at a temperature of at least 40°C till dry.

Use courier or registered post. Trackable courier despatch or registered post is recommended and samples are acknowledged on receipt by us. Couriers commonly used include DHL and Federal Express but also consider your postal services as they usually have fixed price postage Priority or Express Mail International tracked envelopes or boxes allowing up to some maximum weight. If courier firm insists on a value for the contents use $1.00.

Label package as: "Samples for destructive Scientific Analysis - no commercial value".

Send samples to:

Rafter Radiocarbon Laboratory
GNS Science
National Isotope Centre
30 Gracefield Road, Gracefield
Lower Hutt 5010
New Zealand

Contact phone number for courier packages: +64 4 570 4637

Reporting Times

Results are usually reported 12 weeks after receipt of samples (regular size samples requiring full processing) and include:

δ13C (see note at foot of Sample Processing page)
Conventional radiocarbon age, fraction modern (defined by Donahue et al. 1990, without a decay correction) and Δ14C (as defined by Stuiver and Polach 1977, with a decay correction). Note we only report Δ14C if a date of collection, or other date to apply the decay correction to, is provided, since otherwise it is a meaningless value.
We don't usually report pMC, as there is some confusion in the literature as to how pMC is calculated.
Where applicable, calibrated ages based on published international calibration data sets

Reporting time may be longer if batches of more than ten samples are submitted or if the nature/size of the material is such that special processing/measuring methods are required.

The total error reported for radiocarbon ages includes counting statistics and instrumental error. For ages less than 10,000 years the error is typically ± 25 years or less (for regular size samples > 0.2mg graphite). A high precision premium charge service offering reduced error may be available. Please contact us for details. (Email address above).

Price list and Payment

Sample Failure Policy

Please feel free to ask us about the suitability of the material for radiocarbon dating. Under certain circumstances when samples fail in the process we may seek recovery of partial or the full costs of the laboratory treatment up to the point of failure. The sample failure policy is here: