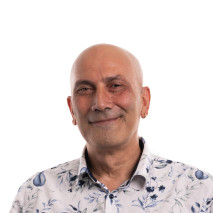 Biography
I was born in Reggio Calabria, a Greek colony founded in 600 BC at the very tip of Italy's boot, just opposite Sicily: only 3 km away, quite practical if you can walk on water. After a lot of close brushes with Mesozoic rocks during my University years, I specialized in modern radiolarians, the plankton group that controlled the silica cycle in the ocean for a long time, until diatoms stole their show… I've worked on fjords, the Nordic Seas and their oceanography, morphometry of microfossils, temperature and sea ice reconstructions, silica cycle, polar paleoclimate, iron fertilization and all things Southern Ocean. I moved to New Zealand in January 2009, where I keep on studying the Southern Ocean, the SW Pacific and the Tasman Sea, particularly their recent past climate history. As fitting for my Greek heritage and geological background, I married my own rock (Meera) on a caldera rim, in Santorini. I have way too many hobbies to cleanse my brain, including riding motorbikes, cooking, playing keyboards, fishing/boating, travelling and experiencing the world, learning languages, and gaming.
Qualifications
MSc, Geology
PhD, Paleontology
Areas of expertise
Geology: Paleoclimatology
Paleontology: Paleoceanography
Paleontology: Micropaleontology
Major Publications
See all publications

Antarctic evidence for an abrupt northward shift of the Southern Hemisphere westerlies at 32 ka BP

, Nature Communications 14: article 5432:

8 p..

DOI: 10.1038/s41467-023-40951-1.

New Southern Ocean transfer function for subsurface temperature prediction using radiolarian assemblages

, Marine micropaleontology 178:

article 102198.

DOI: 10.1016/j.marmicro.2022.102198.

Millennial-scale variability of the Antarctic Ice Sheet during the Early Miocene

, Proceedings of the National Academy of Sciences of the United States of America 120(39):

8 p..

DOI: 10.1073/pnas.2304152120.

Ecoregionalisation of the Southern Ocean using radiolarians

, Frontiers in Marine Science 9:

article 829676.

DOI: 10.3389/fmars.2022.829676.

Impact of the Agulhas Return Current on the oceanography of the Kerguelen Plateau region, Southern Ocean, over the last 40 kyrs

, Quaternary Science Reviews 251:

article 106711.

DOI: 10.1016/j.quascirev.2020.106711.

The Southern Ocean Radiolarian (SO-RAD) dataset : a new compilation of modern radiolarian census data

, Earth System Science Data 13(11):

p. 5441-5453.

DOI: 10.5194/essd-13-5441-2021.

Antarctic Polar Front migrations in the Kerguelen Plateau region, Southern Ocean, over the past 360 kyrs

, Global and Planetary Change 202:

article 103526.

DOI: 10.1016/j.gloplacha.2021.103526.

Mineral dust influence on glacial nitrate record from the RICE ice core, West Antarctica and environmental implications

, Climate of the past discussions [preprint]:

DOI: 10.5194/cp-2020-151.

Technical note : a new automated radiolarian image acquisition, stacking, processing, segmentation, and identification workflow

, Climate of the past 16:

p. 2415-2429.

DOI: 10.5194/cp-16-2415-2020.

A new radiolarian transfer function for the Pacific Ocean and application to fossil records : assessing potential and limitations for the last glacial-interglacial cycle

, Global and Planetary Change 190:

article 103186.

DOI: 10.1016/j.gloplacha.2020.103186.

Palaeoclimate constraints on the impact of 2 °C anthropogenic warming and beyond

, Nature geoscience 11:

p. 474-485.

Environmental determinants of radiolarian assemblages in the western Pacific since the last deglaciation

, Paleoceanography and Paleoclimatology 32(8):

p. 830-847.

DOI: 10.1002/2017PA003159.

A radiolarian-based modern analogue dataset for palaeoenvironmental reconstructions in the southwest Pacific

, Marine micropaleontology 118:

p. 34-49.

DOI: 10.1016/j.marmicro.2015.05.002.

Southwest Pacific Ocean response to a warmer world : insights from Marine Isotope Stage 5e

, Paleoceanography 28(3):

p. 585-598.

DOI: 10.1002/palo.20052.
External Profiles