DART (Deep-ocean Assessment and Reporting of Tsunami)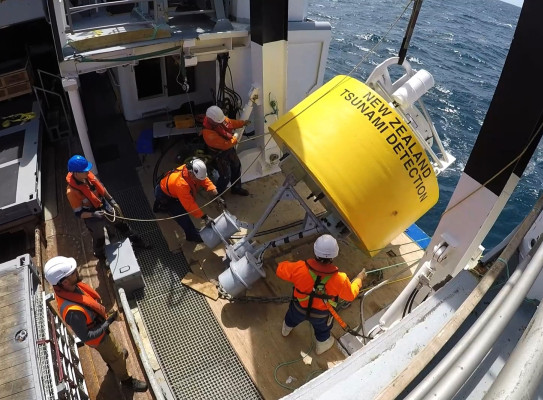 There is a network of DART buoys along the east coast and to the north of Aotearoa New Zealand. The data collected from the DART network helps forecast tsunami in the Southwest Pacific before their waves arrive in Aotearoa New Zealand.
Overview
GNS Science partners in the project include NIWA, NEMA, MFAT and MBIE and contributes to a greater international tsunami monitoring effort with partners in the Pacific Tsunami Warning and Mitigation System.
The project aims to
generate data sets that will improve tsunami resilience in Aotearoa New Zealand and for our neighbours in Pacific Island countries.
To achieve this objective, GNS Science and NIWA
provided specialist input and worked with NEMA and MFAT to deploy 12 DART buoys in the Southwest Pacific. These are linked to the GeoNet hazard monitoring network and provide data to the Pacific Tsunami Warning and Mitigation System
The project
Detecting and recording tsunami
Since Aotearoa New Zealand is located on the Pacific "ring of fire", we are susceptible to tsunami waves travelling across the Pacific. The Pacific Tsunami Warning Center warns us of Pacific-wide tsunami waves, but tsunami waves can also be generated locally. Many of the local and regional tsunami waves that stand to impact our coast can arrive with very little natural warning, making us particularly vulnerable to them. Until recently, New Zealand relied on earthquake generation to help us forecast impending tsunami. Our only actual tsunami measurements were from coastal tide gauges – these are useful for real-time observations but not very useful for forecasting.
DART buoy network
To improve our tsunami monitoring system, we have deployed DART buoys in strategic areas in the Southwest Pacific. DART buoys are deep-ocean instruments that monitor changes in sea level. They allow us to measure the tsunami before it hits our shores.
Twelve buoys were deployed in stages (2019-21) at selected points close to the Hikurangi, Kermadec, Tonga and South New Hebrides trenches where they can detect and measure tsunami that could reach our shores in less than a few hours.
GNS Science's 24/7 National Geohazards Monitoring Centre receives and analyses data from the DART buoys. The centre then provides this information to the Tsunami Experts Panel (TEP), which analyses the data to generate scientific advice for the National Emergency Management Agency (NEMA). NEMA then uses this information to issue improved advisories and warnings to the public. Data from the network is streamed live to the Pacific Tsunami Warning and Mitigation System in Hawaii to enhance trans-Pacific forecasts, providing benefits to all countries surrounding the Pacific Ocean.
NZ DART Buoys - tsunami detection technology
Our science contribution
The deployment of the DART buoys follows many years of work. We used our science to quantify the hazard and design a solution. Our scientists designed the network, planning the locations of the DART buoys to maximise benefit to Aotearoa New Zealand and other countries in the Southwest Pacific. We partnered with NIWA, MFAT and NEMA to deliver the solution.
Improved resilience from tsunami
The array of DART buoys enables GNS Science to provide more accurate estimates to NEMA of how big the waves could be if they reach our coast, which helps NEMA provide tsunami warnings. The sensors are particularly valuable for monitoring potential tsunami from earthquakes in the Southwest Pacific that may be unfelt on the New Zealand mainland. The network provides monitoring and detection information for Tokelau, Niue, the Cook Islands, Tonga and Samoa.
Just as important, the buoys also provide rapid information when no tsunami has been generated after a large earthquake or other possible trigger events such as under-sea landslides and volcanic eruptions.
Find more content related to:
GNS Science topics