Workshop proves a critical catalyst for the "hydrogen opportunity" in Aotearoa New Zealand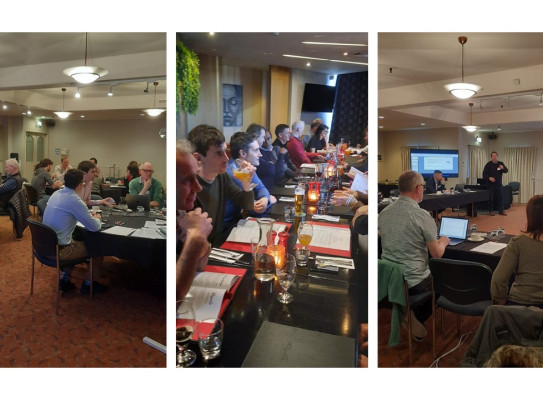 Our Green Hydrogen Endeavour Programme team hosted a workshop that realistically scoped our goals for Aotearoa New Zealand's sustainable energy future.
The Invercargill workshop brought together a network of decision-makers, including representation from Murihiku Regeneration, Ara Ake and the Ministry of Business and Innovation and Employment's Just Transitions unit.
Our Goal - transition Aotearoa New Zealand to a low emissions society.
The workshop, hosted by the GNS Green Hydrogen Endeavour Programme (GH2P) team with support from GNS Māori Engagement and Business Development, focused on the socio- and techno-economic research goals required for Aotearoa New Zealand's energy future.
To realistically scope these goals, the workshop brought together a unique and influential network of decision-makers. The network comprised of representation from Murihiku Regeneration (the Operations Manager and Te Ara Aukati Kore workstream lead), GM of Strategic Projects from Great South, the new Chief Executive and GM of New Zealand Aluminium Smelters (Tīwai Point), Head of Policy, Research & Insights from Ara Ake, the Director of Invercargill City Holdings, a Senior Economist from NZIER, and the Senior Lecturer in Civil Systems Engineering from University of Canterbury.
How the 'Hydrogen opportunity' makes this possible.
The aim of the workshop was to also develop better understanding among these key decision-makers on the opportunities that this economic transition could unlock.
To build this knowledge, director of the GNS Endeavour Programme, "Powering NZ's Green-Hydrogen economy: Next-generation electrocatalytic systems for energy production and storage", John Kennedy, presented GNS Science's green hydrogen technology and capability.
John described our research underway to develop more efficient electrolysers. This area of research is critical as electrolysers account for about 45% of the cost of generation and efficiency gains will contribute to improving the cost competitiveness of green technology.
The next steps in the pathway to a sustainable energy future
The Ministry of Business and Innovation and Employment (MBIE)s Just Transition's leadership brought the upcoming Energy Futures roadmap for discussion on how a green hydrogen may factor into our future. This roadmap will be critical in steering the country to a sustainable future and steering us to zero-carbon by 2050.
Based on discussions, our GH2P team will be employing technoeconomic modelling to forecast the potential economic and environmental benefits and policy implications of green hydrogen and ammonia production utilizing our novel electrocatalysts.
The team will also undertake two series of interviews with key stakeholder groups and communities followed by a wider public survey to gauge the potential future social licence to operate for hydrogen.
The programme, and GNS' broader green hydrogen outreach activities will also be taking a stronger interest in Murihiku Southland, and will look to hold a similar workshop before the project is finalised.
Ultimately, our goal is to identify suitable pathways and actions necessary to fully prepare the industries, government and public with the right knowledge, attitude and practices necessary to integrate hydrogen into our energy mix and lives.
Find more content related to:
GNS Science areas
GNS Science topics