Our continent has a new name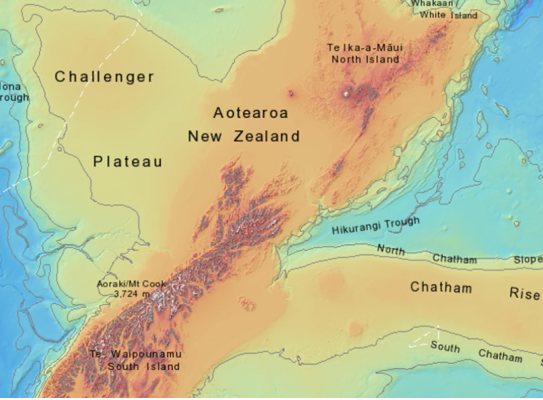 Geologists first coined the term Zealandia in the mid-90s.
Today we celebrate our continent's newly official dual name.
Our continent's new dual name:
Te Riu-a-Māui / Zealandia
The New Zealand Geographic Board noted that a Māori perspective in the name should be considered. This would be achieved by making connections between the places where Māori migrated from, and whenua/land and kiwa/sea. This was subsequently widened to a name that was acceptable to both Māori and Pasifika.
In 2018 GNS Science asked respected Auckland University academic, Associate Professor Mānuka Hēnare, to research and recommend a Māori name that reflected the nature and position of the continent. Professor Hēnare has 12 years' experience as Associate Dean of Māori and Pacific Development, so he can draw from both perspectives. He was instrumental in naming three ships for the Royal New Zealand Navy (Te Kaha, Te Maru and Te Mana) and is well practised at recommending names that are acceptable across the Pacific.
Te Riu-a-Māui literally means the hills, valleys and plains of Māui - the great East Polynesian ancestor explorer of the Pacific Ocean. Riu means hull (of a canoe), basin (like the Waikato basin), a belly, the core (of a body). It is the whole that holds the parts together.
Māui is an ancestor of all Polynesians. He sailed and explored the great ocean and caught the fish which he and his crew pulled up. The fish became many of the islands we know today. The name Te Riu-a-Māui brings together traditional oral narratives and geological science.
The convention with dual names is that the Māori name comes first e.g. Aotearoa/New Zealand, Aoraki/Mt Cook.
The New Zealand Geographic Board has welcomed GNS Science's leadership in taking this initiative. GNS Science is working to gain external acceptance of the dual name and is setting an example by using it both internally and externally. The first major application of the name is the Te Riu-a-Māui/Zealandia exhibit within Te Papa's new $12 million nature zone - Te Taiao Nature(external link) – which officially opened in May 2019.
Find more content related to:
GNS Science areas
GNS Science topics