Vision Mātauranga
Te Uaratanga Mātauranga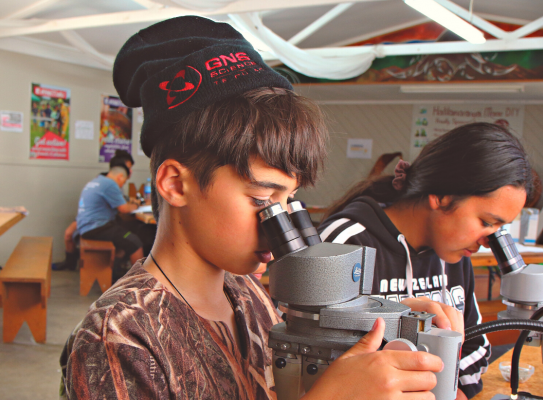 Vision Mātauranga | Te Uaratanga Mātauranga is at the core of GNS Science's strategic framework and research.
We are on a journey with our iwi partners, and together, we are committed to bold leadership and the delivery of mutually beneficial outcomes.
Our vision | Moemoeā
Partnership for prosperous people and places
In line with GNS Science's overall vision to enable a cleaner, safer, more prosperous Aotearoa New Zealand, this statement recognises that our work is all about creating and supporting a prosperous nation. It is our people, and their connection to place, that is the very foundation of that prosperity.
Our mission | Whāinga
Our mission is to become a trusted research partner with Māori, supporting shared aspirations and contributing to the well-being of Aotearoa New Zealand. Our mission reflects the evolution of our work with Māori communities and organisations over the years. Several staff identified that GNS being a "valued and trusted partner with Māori", contributing through its research, expertise and knowledge to Māori communities, aspirations and well-being needed to be central to the strategy.
Our values | Tikanga
Our values set the standard and expectation that guides our behaviour and approach to everything we do. These values underpin our approach for Vision Mātauranga as an organisation.
Our values are expressed in a framework – MAHIA – and are applied both holistically and specifically. "Mahia" literally means to accomplish or get on with the work. This framework provides guidance on both what we should focus on in doing our work as well as how we should go about it.
Manaaki – We enhance the mana of others.
Ara – We act with purpose and intention.
Hinengaro – We value knowledge.
Ihi – We are courageous and innovative.
Āhua – Our achievements are a reflection of our partnerships.
Our outcomes | Kaupapa
There are five kaupapa matua (priority areas) that summarise key challenges and opportunities critical to achieving our moemoeā (vision) and whāinga (mission):
Our people | Whai tangata
Our people must have the necessary capability and capacity to work effectively in intercultural contexts
Our partnerships |

Whai mana


Our partnerships with Māori must be authentic, strategic and inform why, what, how and who we work with.
Our organisation | Whai taumata
Our organisation must have the infrastructure necessary to enable and support our people, our partners and our productivity.
Our knowledge | Whai mātauranga
Our knowledge of mātauranga Māori and science must enable us to innovate and inspire.
Our research | Whai mahi
Our research must align with the priorities and aspirations of Māori.
Milestones
We seek to achieve and build on the following milestones now and into the future.
We actively engage with Māori to form collaborations with Iwi-Māori Authorities, Trusts and/or businesses that result in co-designed research initiatives within and across all GNS Themes.
GNS is a world-class science leader in recognising and supporting Indigenous knowledge as part of the natural science system.
Contribution to Mātauranga Māori and recognising this body of knowledge contributes to a fuller understanding of our environment.
We increase the capacity of the Māori workforces in science and technology.
GNS shares our experiences and knowledge alongside our Māori partners through community and academic/industry forums.