Data Science
Pūtaiao Raraunga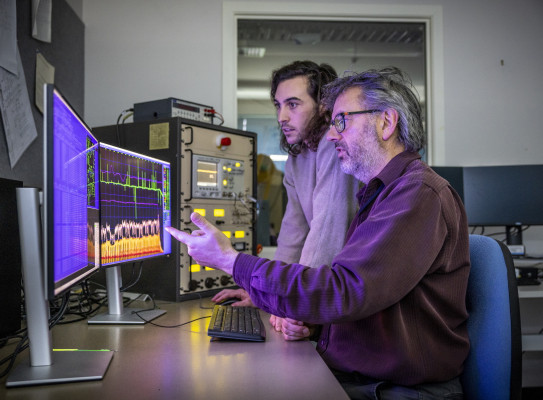 Data is at the very heart of GNS Science. It is the key input and output of our science.
Managing and using data appropriately is paramount to maintaining the quality, credibility and usefulness of our science.
GNS Science and data
Leading-edge techniques and expertise in data science (including Deep Learning, Decision Support Models, Data Lens, and trust in Artificial Intelligence) are applied across our Science Themes to make the most of our information and insights. They are applied to all of our databases, many of which are nationally significant, and to GeoNet and satellite data.
Our investment in data science builds capability and capacity, and in turn, enables us to extract more value from GNS Science's significant data resources. The goal of this investment is to benefit the wider science community and to deliver the greatest value and impact for Aotearoa New Zealand.
Data collection
GNS Science studies our land, volcanoes, oceans, water aquifers and atmosphere, which are all evolving rapidly. The data we collect today provides a snapshot of our environment, providing a current benchmark and becoming the steppingstone of future research.
Because our studies are diverse, the data we collect is also diverse. From water quality data requiring in-person sampling to earthquake data collected remotely via various sensors and devices, our data contributes to understanding the complexities of our world.
Local databases and international databases we contribute to include:
Research data management
Research data management encompasses planning, collecting, storing, sharing, publishing and archiving data (data lifecycle). It involves decisions about how to look after data so that it is securely stored, comprehensively described and easy to find and access (when appropriate). Good data management secures data of good/known quality, which can be reused under the appropriate licence. It also prevents data loss, breach of confidentiality, data corruption and disconnect to relevant sources.
Since data underpins our science, managing our data well is a priority. Our obligation is to preserve, protect and responsibly share data with the scientific community and New Zealanders. Our data is open by default, except when confidentiality prohibits this. GNS Science follows the FAIR(external link) (Findable, Accessible, Interoperable, Reusable) and CARE(external link) (Collective Benefit, Authority to Control, Responsibility, Ethics) principles.
GNS Science is the custodian of eight National Significant Collections and Datasets (NSCDs) and 25 high-value data resources.
Delivering insight through data
The data we collect and manage must be processed in order to offer information that we can use to answer our research questions and hone our understanding of our changing world. These insights can be sought and displayed using a variety of methods, including:
Machine Learning/AI
Deep Learning
Data Visualisation
GNS software
We have designed several software applications to process and analyse the data we collect. An example of one of our tools in the Petroleum Basin Explorer (PBE)(external link). This is an interactive, web-based tool that allows users to discover and access a wide range of exploration and research geoscience data from across the New Zealand sub-continent, using both geographically based and text searches.