Organic Geochemistry Laboratory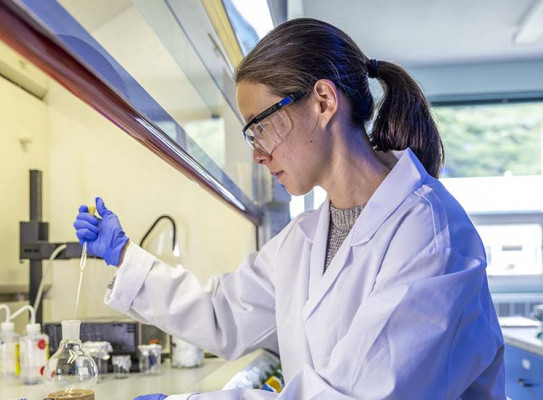 Our work contributes to the improved understanding of environmental and climate changes, human impacts, and natural hazards in New Zealand, Australasia, Antarctica, and worldwide.

The Organic Geochemistry Laboratory (OGL) is a collaboration between GNS Science and Victoria University of Wellington. We undertake multidisciplinary and collaborative scientific research as part of national and international research projects.

Our work enables the science community, government, industries and communities to understand and assess environmental risks, manage and address the impacts of environmental and climate change, and explore future energy opportunities.
Our Expertise
The Organic Geochemistry Laboratory team investigates the composition of bulk organic matter and specific organic compounds in environmental samples from ancient and modern aquatic and terrestrial environments, and in petroleum.
We undertake multidisciplinary and collaborative research relating to:
Lake, coastal and ocean research
Antarctic research
Hydrothermal systems
Petroleum systems
Earth history and life evolution
Our laboratory and equipment
Our laboratory provides:
a dedicated space for researching environmental samples (e.g. microbial and plant biomass, sediments, soils, rocks, petroleum)
a wet chemistry facility for the extraction of a range of organic compounds from environmental samples
separation, purification and analysis of organic compounds by gas and liquid chromatography
compound-specific stable isotope analyses.
Our laboratory is equipped to extract, isolate, identify and analyse a large variety of organic compounds, including:
Paleoclimate indicators (e.g., alkenones and glycerol dialkyl glycerol tetraethers, GDGTs)
Saturated, aromatic, and polar hydrocarbons
Steroids and hopanoids
Fatty acids
Pigments
We are set up to analyse biomarkers in all types of environmental samples, including:
Sediments
Soils
Sedimentary rocks
Water column particulate matter
Microbial and plant biomass
Petroleum source rocks and oils
Tracking environmental change using pigments
Our capabilities include
Biomarker extraction and solvent evaporation:
Ultrasonic extraction
Soxhlet extraction
Accelerated Solvent Extraction (ASE)
Büchi rotary evaporation
Büchi Syncore evaporation
Nitrogen concentrator
Instrumentation for biomarker analyses include
Gas chromatography using flame ionization detection (GC-FID), nitrogen phosphorous detection (GC-NPD) and mass spectrometry (GC-MS)
Pyrolysis gas chromatography mass spectrometry (Py-GC-MS)
High performance liquid chromatography mass spectrometry (HPLC-APCI-MS)
Our Clients
Our services are provided to enhance environmental and climate research, both in New Zealand and around the world. We work closely with a range of university and science research facilities, government agencies and environmental organisations.
To arrange a visit to the lab, meet with our team or discuss a sample for analysis, please get in touch.
Meet our Team

Our lab is a collaboration between GNS Science and Victoria University of Wellington. As well as a core team from GNS Science, we also host associated scientists, alumni, PhD students, research associates and summer students and interns.

The GNS Team:

Sebastian Naeher (Lead Scientist)
Thomas Austin (Ice Core/Organic Geochemistry Technician)
Valerie Stucker (Earth and Environmental Science Laboratories Manager)
Andy Phillips (Stable Isotope Laboratory Lead Operator)
Marcus Vandergoes (Paleoclimate Scientist)
Karyne Rogers (Environmental Scientist - Isotope Biogeochemistry)
Genevieve Coffey (Paleoseismologist)

Georgia Grant (Sedimentologist - Coastal Processes)

Julian Eschenroeder (PhD student from University of Otago)

Victoria University of Wellington - associated scientists:

Bella Duncan (Postdoctoral Fellow)

Holly Winton

(Postdoctoral Fellow)

Rob McKay (Director Antarctic research Centre)

Aileen Gordon (MSc student)
Emma DeJong (MSc student)
Linda Balfoort (MSc student)

Alumni - former scientists and PhD students (in alphabetical order):

Patricia Anderson Johnson
Troy Baisden
Enock Rotich
Todd Ventura
Marjo Verret
Klaus Zink

Alumni – former undergraduate students, research assistants, summer students (in alphabetical order):

Tiaan Bonica-Kururangi
Stuart Caird
Sky Halford
Natasha Lelieveld
Tahiwi Loader
Rebecca Pretty
Steven Rosenberg
Yaasameen Shalla
Li Yen Thor
Nikita Turton
Camille Visinand
Nicole Waldron
Hemi Waitaiki

Visiting scientists and students from overseas