Kermadec arc and the Taupō Volcanic Zone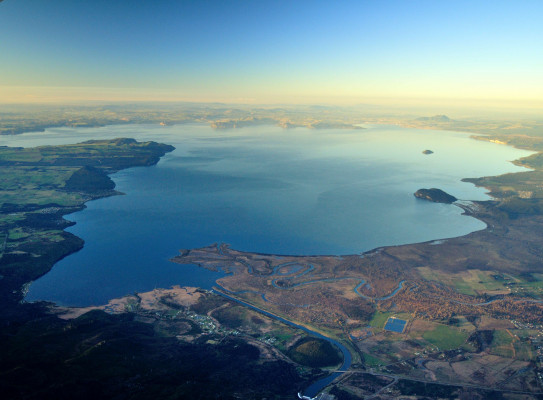 The formation of the Northland (Kermadec) arc c.23 million years ago started a cycle of volcanic activity that continues today within the Taupō–Kermadec arc system.
Most New Zealand volcanism in the last 1.6 million years has occurred in the Taupō Volcanic Zone (TVZ).
Kermadec arc, islands and submarine volcanoes
The Kermadec arc extends 1,220 km to the northeast as a series of mainly submarine volcanic centres that lie on, or immediately to the west of, the Kermadec Ridge.
About 80 submarine volcanoes are along the Tonga-Kermadec Arc - around 80% of these host active hydrothermal systems.
Hot mineral-rich fluids within the Earth's crust billow into the ocean from these hydrothermal systems. Where the temperature is high enough, black smokers develop, spilling out high concentrations of metals such as gold and copper. Raoul Island and nearby Herald Islets, Macauley Island and nearby Macdonald Rock, Curtis Island, Havre Rock and L'Esperance Rock are all crests of partly emergent submarine volcanic centres.
Hydrothermal systems produce submarine areas with higher temperatures and mineral-rich conditions. These isolated and chemically-diverse ecosystems support rich and unique biodiversity.
The Kermadec Trench is the southern section of a very active line of plate tectonic collision that extends over 2,500km from New Zealand to Tonga. It is one of four linear areas of volcanic activity atop the collision zone of the Pacific and Australian Plates – the now-extinct Kermadec and Colville Ridges, and the much deeper Havre Trough.
Taupō Volcanic Zone (TVZ)
The Taupō Volcanic Zone is extremely active on a world scale.
This 350km-long and 100km-wide volcanic zone is home to:
Three frequently active cone volcanoes – Ruapehu, Tongariro/Ngauruhoe, and Whakaari/White Island)
Two of the most productive calderas in the world – Okataina and Taupō

Taupō is termed a "supervolcano", with frequent eruptions over the past 300,000 years. The caldera – Lake Taupō – was created by the Oruanui Eruption some 27,000 years ago. The Taupō Eruption 1,800 years ago was the most violent eruption known in the world in the last 5,000 years.
The TVZ also contains a cluster of supervolcanoes known for their huge output of rhyolitic magma over the past c. 1.6 million years.