Thousands of landslides expected because of Cyclone Gabrielle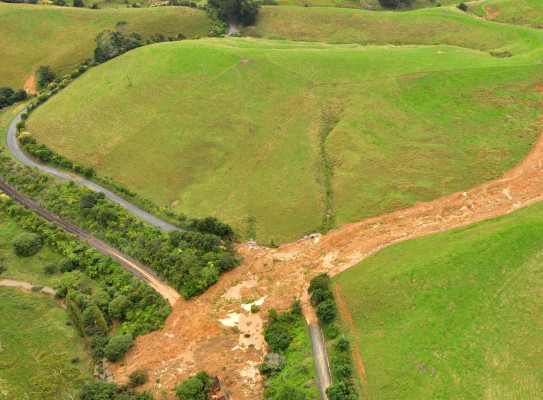 Landslides are a national hazard, responsible for taking lives and costing New Zealand around $300M a year. Our experts provide advice to New Zealanders about how they can stay safe during extreme weather events, and how the public can help.
Many thousands of slips are expected across the North Island as a result of Cyclone Gabrielle. This follows closely on the back of the severe weather event last month, where aerial surveys identified thousands of landslides across Auckland and Northland, generating more than 2,000 landslide-related insurance claims. GNS Science Engineering Geologist, Chris Massey, explains what this means for Kiwis, and how the public can get involved in the national response effort.
"This cyclone has caused significant damage to property and national lifeline assets, like roading and rail, and water and power services, and it's not over yet," he explains.
The team uses scientific modelling to forecast hotspots of concern, using Riskscape, a tool that helps to forecast the economic and social impacts from large storm events.
"We determine landslide probability across regions by using rain forecasts and measurements to generate landslide forecasts. Then we can estimate the locations of communities and infrastructure most exposed, to help visualise the likely impacts," Chris says.
"We provide that information to the emergency management teams and it helps them plan their response."
GNS assesses landslide activity across the region, initially using observations from helicopter reconnaissance surveys, public observations and agency reports, and later from UAV surveys and satellite data analysis of landslide locations. Chris says that the public role in locating landslides cannot be underestimated.
The more evidence-based information GNS has to provide the emergency management responders and national decision makers, the better equipped they are to keep communities safe and to help New Zealand recover faster. Anyone noticing a landslide can email us and provide details.
"Safety first!" Chris cautions. "Landslides can be highly unpredictable and if you're not an experienced engineering geologist or geotechnical engineer please stay a safe distance away from any existing landslides and potentially dangerous slopes."
Failed ground that has been damaged but may not have fully shifted can start creeping and could accelerate to failure rapidly after the rain has stopped, or during other rain events. People must stay vigilant.
"Homes near hills or steep slopes are most at risk so if that's where you live, watch out for cracks or movement that could be a warning sign, and get quickly to safety," he says.
"If you have been evacuated do not return to your home until you are given the all clear to do so from the authorities. Hunker down, keep out of harms way, and stay safe."
New Zealand public with information about landslides can email landslides@gns.cri.nz. Include the date it was observed, the location and size of the slide. Photos are welcome too.
Things to remember during extreme weather events

Landslides can be triggered by heavy rain or earthquakes and can occur with little or no warning. Know the weather forecast for your region and plan ahead

Put safety first. Don't take any chances. Act quickly if you see rising water. Floods and flash floods can happen quickly. If you see rising water do not wait for official warnings. Head for higher ground and stay away from floodwater.
Do not try to walk, play, swim, or drive in floodwater: even water just 15 centimetres deep can sweep you off your feet, and half a metre of water will carry away most vehicles.
Throw away food and drinking water that has come into contact with floodwater as it is often contaminated and can make you sick.
Stay at home if it is safe to do so and have an evacuation plan in case your home becomes unsafe to stay in.
If you have evacuated, please stay where you are until you are given the all-clear to go home.
People should stay up to date with the forecasts from MetService and continue to follow the advice of civil defence and emergency services.
Find out what to do before, during and after a storm here

(external link)

Follow local emergency management advice to keep you and your whānau safe. Contact 111 if you are in immediate danger or otherwise call your local council
Civil Defence's get ready website

(external link)

has useful advice about warning signs to look out for.

Regional civil defence websites are a good place to get the latest local information

It is normal to feel anxious during an emergency event. Keeping well connected with loved ones, neighbours and colleagues is important. For more information on managing stress and help on getting through it, go to www.getready.govt.nz

(external link)