GNS Scientists to help develop new tool for predicting impacts of sea-level rise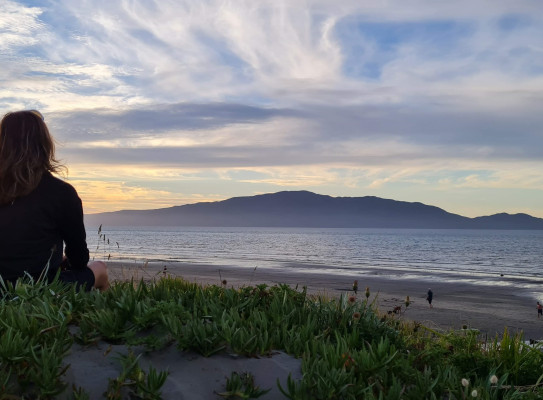 A major research programme involving researchers from GNS Science has received funding to produce a new publicly available tool showing sea-level projections at a finer scale than ever before.
Te Ao Hurihuri: Te Ao Hou – Our Changing Coast is led by Te Herenga Waka— Victoria University of Wellington, the project aims to improve understanding of the impacts of sea-level rise on coastal communities and infrastructure has received $13 million.

The research will produce a publicly-available online tool which shows sea-level projections at 100 metre spacing along the New Zealand coastline. This improves upon the 2km spacing produced by The NZ SeaRise: Te Tai Pari O Aotearoa programme.(external link)
A key focus of the project is on improving the models currently used to understand the effects of sea-level rise, such as coastal flooding and groundwater salination and flooding, and risks to key infrastructure and cultural sites. Estimates provided by the new tool will also include the probability of major earthquakes causing changes in land elevation along the coast.

Programme co-leader Professor Tim Naish, from the University's Antarctic Research Centre, says the research will improve the ability to predict sea-level rise and the impacts it will have around the country.
Co-leader Associate Professor Richard Levy says this research builds upon a fruitful relationship and success of The NZ SeaRise: Te Tai Pari O Aotearoa programme.

"Collaboration between researchers, data analysts, science communicators, and councils from across Aotearoa has been key to our work so far and will continue as we strive to improve our ability to project coastal change. Researchers at GNS Science and the University of Canterbury will combine new land movement data obtained from satellites with an assessment of possible future earthquake events. This analysis will improve our estimates of vertical land movement and allow us to refine our sea level projections. Project partners at the Universities of Waikato and Auckland and at Oceanum will examine the response of the coast to projected water level change."
Funding for the programme, Te Ao Hurihuri: Te Ao Hou—Our Changing Coast, is being provided by the 2022 Endeavour Fund administered by the Ministry of Business, Innovation and Employment.
The programme involves a multi-disciplinary team including researchers from GNS Science, University of Auckland, University of Canterbury, University of Waikato, Oceanum Ltd, Takiwa Ltd, and Te Whare Wananga o Awanuiarangi.

The project will begin in October and run until 2027.
Find more content related to:
GNS Science areas
GNS Science topics