GNS co-authored paper captures destructive power of the 2022 Hunga Tonga-Hunga Ha'apai volcanic eruption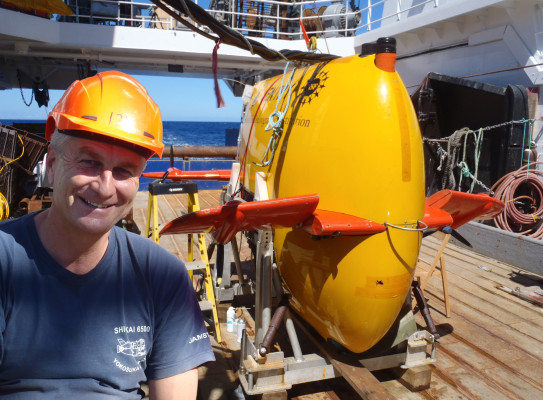 An international research team, including researchers from GNS Science, has today released details of how the collapse of a major volcanic eruption column into the ocean severed international communications and triggered the fastest underwater flows ever recorded.
The massive eruption of the submerged Hunga Tonga-Hunga Ha'apai Volcano on 15 January 2022 triggered shockwaves that travelled around the planet and excavated a huge crater to 850 m below sea level.
The new research, published in Science, describes what happened below the surface of the sea when the column of erupted volcanic material collapsed and plunged straight back into the ocean. The sudden delivery of huge volumes of hot volcanic rocks, ash and gas into the ocean created avalanche-like flows, which travelled at speeds of up to 122 km/hour along the seafloor, causing extensive damage to the two seafloor cables that connected Tonga and its many islands to the global telecommunications network.
Scientists and industry collaborators undertook seafloor sampling and surveys in the immediate aftermath of the eruption, which showed that the subsea cable damage was caused by powerful and dense currents.
Researchers were able to determine the speeds of eruption-triggered seafloor flows for the first time and to better understand the hazards posed by other submerged volcanoes worldwide. The extremely fast flow speeds were caused by collapse of the 57 km high eruption plume when it fell directly into the ocean onto underwater flanks of the submerged volcano.
"The height from which the volcanic column collapsed, and the resulting speed and power of the submarine flows, explains the widespread damage to the seafloor cables" said Cornel de Ronde of GNS Science, a co-author on the paper.
In May 2024, GNS scientists will lead an international marine research voyage back to what is now known as Hunga volcano, to collect geological, geophysical and water column data inside the crater and over the flanks of this submerged eruption vent to better understand how the destructive 2022 eruption might have been triggered. The scientists hope to learn more about the processes that generate such powerful underwater volcanic driven flows and how they might be applicable to the numerous submarine volcanoes that sit within New Zealand's maritime estate.
Find more content related to:
GNS Science areas
GNS Science topics