Strengthened Indonesian Resilience
Reducing Risks from Disasters (StIRRRD)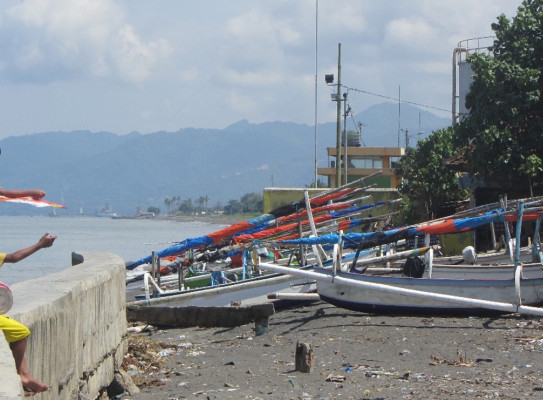 Strengthened Indonesian Resilience: Reducing Risks from Disasters (StIRRRD) is a Disaster Risk Reduction (DRR) programme run by GNS Science and Gadjah Mada University (UGM), designed to increase the DRR capability of local government and local universities in Indonesia.
Overview
Indonesia has a population of 250 million people living in diverse environments from bustling cities to tiny islands, along coastlines, and in forest and mountain areas. As with Aotearoa New Zealand there are natural hazard risks and Indonesians live with the ongoing threat of earthquakes, as well as volcanic eruptions, flooding, tsunami and landslides.
The five-year Strengthened Indonesian Resilience: Reducing Risks from Disasters (StIRRRD) programme assisted 10 districts to develop action plans and then, midway through the programme, reviewed the plans to see how effectively they had been implemented. The programme also had a scope beyond its five-year duration, putting long-term plans in place so that progress would continue after the programme was completed.
The project aimed to
facilitate the development of district Disaster Risk Reduction (DRR) Action Plans and implementation. The Action Plans were developed through New Zealand-based and in-country workshops and learning support from local universities
use case studies from other districts in Indonesia and New Zealand, along with community projects, to demonstrate risk reduction and preparedness in practice
set long-term goals for this work to continue after the programme's conclusion in 2019
To achieve these objectives, we
shared resources and information from New Zealand's DRR programmes
fostered partnerships between hazard management organisations in Indonesia
assisted with creating action plans through workshops and coaching – and revisited them during the programme to ensure the plans were being implemented
identified and implemented case study community projects
The project
Goals
The goal was to share lessons learned from natural disasters in New Zealand, as well as build partnerships between organisations in Indonesia with a responsibility for managing hazards. Instead of simply waiting for disasters to occur and responding in their aftermath, the focus was on damage prevention: building safer infrastructure, improving housing, assisting with planning and preparation for communities (including evacuation routes), and further education around risks and hazards.
These changes and improvements, while ongoing, have created a stronger resilience in the face of natural disasters – and are helping to save lives.
Seismometers in Schools in Indonesia
Seismometers are being used in Indonesian Schools as part of the StIRRRD disaster risk reduction project.
Indonesia / New Zealand StIRRRD project update
GNS Science Disaster Risk Reduction project in Indonesia is halfway through its 5 year timeline. Nico Fournier gives an update
Main achievements
Specific goals that were achieved include:
DRR Action Plans formulated and over 140 actions implemented in the StIRRRD districts
over 600 local government staff were trained in DRR activities within the StIRRRD districts
emergency Management Staff from over 70 districts and 9 provinces were exposed to the StIRRRD Activity
an Activity Toolkit was developed that can be used as an ongoing resource
tsunami preparedness was increased through implementation of 'Blue Line' projects in Bengkulu and Padang
Rawa Indah village in Seluma District benefited from the construction of a tsunami shelter and associated awareness programmes involving simulations and education with local schools
a Seismometers in Schools (SIS) Community Project was initiated in Donggala and Morowali districts and Palu City, Central Sulawesi to increase awareness particularly of teachers and students, of the high earthquake and tsunami risk in these districts, through interactive activities and projects based around school seismometers
Related Projects
Multi-Hazard Early Warning System (MHEWS) for Indonesia – Richard Woods
In 2019, in partnership with Deltares, GNS Science delivered a baseline assessment for a people-centred multi-hazard early warning system (MHEWS) for Indonesia. The study used the comprehensive World Meteorological Organisation's MHEWS design to develop an implementation framework for the Government of Indonesia.
The findings are being used to inform the World Bank US$160M Indonesia Disaster Resilience Initiatives Project (IDRIP) which will develop the MHEWS. The results of the baseline study support policymakers of the Government of Indonesia to determine the strategies, refine the MHEWS technical design, and inform future investments on early warning systems and emergency management capabilities.
AHA Centre Training – Scott Kelly
Recovery Support for Central Sulawesi – Phil Glassey (external link)
Publications

Esti Anantasari et al. 2017. Disaster Risk Reduction (DRR) Capacity and Capability of Local Government In Indonesia in Disaster Risk reduction in Indonesia: Progress, Challenges and Issues, Djalante, R., Garschagen, M., Thomalla, F., Shaw, R. (Eds). Springer International Publishing. http://www.springer.com/us/book/9783319544656(external link)

Daly, M. et al. 2019; Development of DRR action plans for local government in Indonesia(external link). Contributing Paper to GAR (Global assessment Report on Disaster Risk Reduction) 2019, UNDRR

DRR in Disadvantaged Regions: Disaster Management Guidelines based on Policy and Best Practice. Dec 2017) Kemendesa which includes a chapter on the StIRRRD approach, and a chapter on one of StIRRRD districts, Seluma, highlighting the profiles
Research programme details
Collaborators: Universitas Gadjah Mada (UGM), Indonesia National Agency for Emergency Management (BNPB), Indonesia Ministry of National Development Planning (Kementerian PPN/ Bappenas), Indonesia Ministry of Village, Development of Disadvantaged Regions and Transmigration (Kemendesa), provincial and local government disaster management agencies (BPBD) and planning departments (Bappeda) in the participating provinces and districts, other Indonesian central and local government agencies, Beca, NIWA, GHC Consulting, NZ local government in Auckland, Gisborne, Wellington and Christchurch who supported NZ based field visits.
Funding platform
New Zealand Aid Programme
Funder
Ministry of Foreign Affairs and Trade (MFAT)
Find more content related to:
GNS Science topics