Tritium and Water Dating Laboratory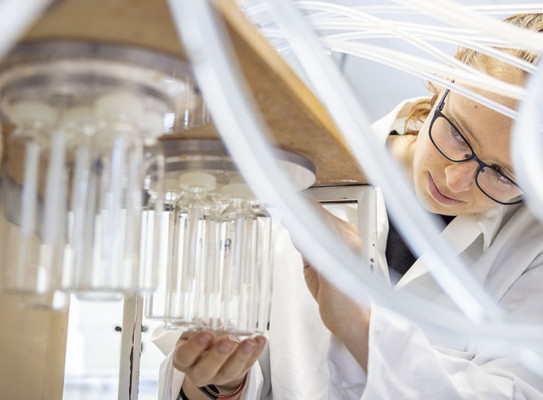 GNS prides itself on being home to the world's most accurate tritium dating facility. Our reputation for innovation, precision and analytical capabilities has resulted in our work influencing national and international research and environmental programmes and policies.
The work we do enables governments, councils and resource managers, and industry to better understand, manage and protect precious water resources, and to provide secure drinking water to New Zealand communities.
Environmental tracer data from our lab provides evidence of how catchments sustain flow in their river discharges, how rivers sustain the coastal aquifers (the water source for most of our population), and how groundwater interacts with geothermal systems.
Our Expertise
The Tritium and Water Dating Lab at GNS has a proud 62-year history of delivering high-sensitivity tritium analysis and water dating services. We are internationally renowned for our ability to achieve the highest levels of accuracy and precision in tritium analysis (with a detection limit of 0.02 TU and reproducibility of 1%).
Our results create new understanding of hydrological processes, including:
Land use impact on groundwater quality and nitrate loads from legacy land use sources
Source and rate of groundwater recharge
Water dynamics through river catchments
Recharge of river water into the coastal aquifers
Validation of groundwater flow models
Rate of hydrogeochemical processes
Ice core dating
Ocean circulation.
Our tritium and water dating experts undertake collaborative research and we contribute to, and assist in, research design, both in New Zealand and around the world.
Accreditation
The GNS Science water dating lab is currently recognised by the International Atomic Energy Agency (IAEA) as the most precise tritium laboratory in the world.
Our Clients
Our services are sought out by government agencies involved in water resource management, drinking water providers, universities, industrial and commercial clients, and other groundwater research providers.
We provide analytical services for international researchers and our work has industrial applications in groundwater resource, climate change, oceanography, geothermal dynamics and hydro-dam security. We also participate in a range of IAEA international inter-comparison tests.
Our Location
The Tritium and Water Dating laboratory is located at the GNS Science campus in Avalon, Wellington.

Analysis Available

The Water Dating Lab carries out analysis of Tritium, CFCs, SF6, Halon 1301, Radon and Excess-N2. We can also help facilitate analysis at our other GNS labs for stable isotopes and radiocarbon if required.

Sampling Instructions

Sample Bottles

Submission Documentation

Please contact us for your Sample Submission Form and Import Permit


Sample Submission Form
All samples should be accompanied by a printed copy of our Sample Submission Form with sufficient documentation to identify each individual sample. A copy of the Submission Form should also be emailed to waterdating@gns.cri.nz prior to shipping.

MPI Import Permit
Samples sent from outside New Zealand MUST be accompanied by a copy of our Import Permit. Failure to do this may result in your samples being delayed on entry into New Zealand. Do not send your samples without the permit.

Please print and attach the Import Permit with the shipping paperwork on the outside of the package. You can also write the permit number on the package, so it is easily seen.

How to Send Samples

Use courier or registered post. Trackable courier despatch or registered post is recommended, and samples are acknowledged on receipt by us. If courier firm insists on a value for the contents use $1.00. Label package as: "Samples for Scientific Analysis - no commercial value".

Send samples to:
GNS Tritium and Water Dating Lab

GNS Science
1 Fairway Drive,
Avalon
Lower Hutt 5011
New Zealand

Contact phone number for courier packages: +64 4 570 1444
Please email waterdating@gns.cri.nz and notify us of any incoming samples.

Price List and Payment