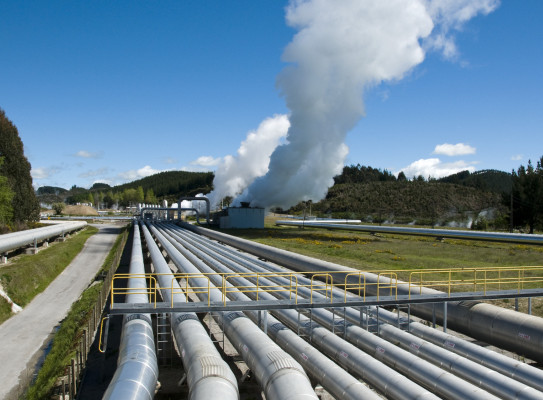 Geothermal energy comes from the Earth's core and is a natural, abundant and renewable energy source.
Geothermal energy has the potential to transform how we use energy and to reduce the world's carbon emissions. GNS Science supports innovation and research in geothermal energy to learn how we can more efficiently harness this natural source of energy.
New Zealand's carbon-neutral future
We have a team of world-leading researchers who have been studying geothermal energy and New Zealand's geothermal resources for decades.
Our team is at the forefront of the development of geothermal energy in New Zealand and around the world. Currently, geothermal energy produces about 20% of New Zealand's electricity.
Our research
We analyse the structure of geothermal resources, model heat and fluid flow, assess and mitigate risks (such as CO2 emissions) and provide clear data (including the use of geological and reservoir modelling) to demonstrate the value and potential of geothermal resources.
Transforming how we use energy

Fossil fuels, such as coal, are used for power. Their use causes gases, such as carbon dioxide (CO2), to enter the atmosphere, which contributes to global warming and climate change. Geothermal energy has much lower carbon emissions and even has the potential to be emissions-free.

New Zealand is a small country, and we are not a major source of the world's carbon emissions. But as a 'global citizen', we need to play our part in adopting clean energy and working towards our goal of net zero carbon emissions by 2050. As New Zealand continues to improve its processes and develop research with assistance from GNS Science, we can also provide a template that will benefit other parts of the world.

What are the challenges and risks?

There are several challenges and risks associated with geothermal use.

While geothermal energy is available around the world, its main production is limited to volcanic regions.
It's a cheap source of energy, but the initial exploration and drilling of a site is expensive.
Measurements can only be taken at discrete locations where wells are drilled, so our understanding of the amount of available energy has a high level of uncertainty.
There is still more to learn about its levels of sustainability and potential environmental impacts.
Businesses have seen opportunities to use renewable energy sources in their processes to reduce energy costs and greenhouse gas emissions or maximise the benefits from a geothermal resource on their land. However, the process needs to be stable and cost-effective, which is still a work in progress.