The Summer of SkyTEM continues in Wairarapa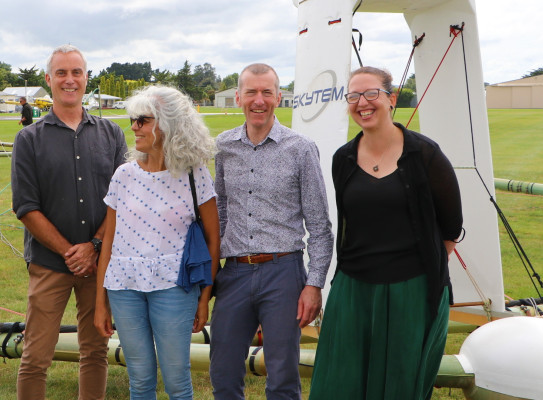 GNS Science have partnered with Greater Wellington Regional Council on The Wairarapa 3D Aquifer Mapping Project


Over the next weeks, a helicopter will be making multiple flyovers of the Ruamāhanga Valley. Beneath it will hang an octagonal loop. This loop is what's known as 'SkyTEM' – an airborne system that collects electromagnetic data. The electromagnetic scans, combined with existing data, will provide a three-dimensional picture of the Ruamāhanga Valley's aquifers (locations where water is naturally stored underground). In addition to uncovering the depth and size of aquifers, it will assist with understanding how aquifers connect to wetlands, lakes, streams and the ocean.
Most current information about aquifers is only available at locations where boreholes have been drilled. This provides detailed information about a specific location but often only to shallow depths.
Technical lead GNS geophysicist Dr Richard Kellett says there are a lot of excited people at GNS Science, ready to work on this data.

"I have been working with Bruce and his team at GWRC for several years to bring this project to fruition. GNS is very excited about this project. SkyTEM is an international standard, it is recognised around the world as one of the main tools for producing hydrogeological information."
"We have four of these surveys happening right now and we are the middle of what we call 'the summer of SkyTEM'. We are here now, the gear is here, the helicopter, the technology and we are getting really excited to get going. The level to which GNS is committed to this is immense. We have doubled the number of staff in the last year looking at these types of data to meet the demands of what we are doing now, and what is coming up in the future. The helicopter survey is just the start.

"In the coming months, when we have the data, there will be intense work to create maps and information where we can look at the layers of the aquifers which can lead to us testing the flow with sophisticated computer programmes."
3D Aquifer mapping in the Wairarapa
The science behind it
Over the coming months, GNS scientists will work to interpret and analyse the data. Advanced hydrogeological maps and models will be created by combining the new data with other information, such as data from groundwater bores. Plans are in place for a 3D aquifer map, related research, and the models developed to be made available to everyone via the Greater Wellington website after two years.

South Wairarapa District Council Chief Executive Harry Wilson said "with climate change research predicting rising average temperatures in Wairarapa, potentially leading to water shortages for Wairarapa, it makes sense to conduct such a detailed analysis of local aquifers. Better data means together we can make better decisions about how water is used – these are vital decisions that impact all of us."

Greater Wellington say the data will be used to help mana whenua and the community make better decisions about water.
GNS Environment and Climate Theme Leader Dr Richard Levy says this work aligns with the wider Environment and Climate goals at GNS Science. "Given the importance of fresh, clean, water it's critical we continue to grow our understanding of our underground water reservoirs in relation to these commitments. People don't often think about this precious resource but there is a lot of work being undertaken to understand and protect it."
GNS Science Hydro-geophysicist Zara Rawlinson says the SkyTEM dataset will look deeper over the entire aquifer system and "connect the dots" by integrating this borehole information into 3D models.

"Communities and Councils in New Zealand are needing to make decisions around land and water management, but there is a scarcity of information. By bringing this state-of-the-art technology to the Wairarapa, we hope to provide a large and robust data source to assist the region with finding long-term water management solutions that are environmentally, economically and socially sustainable."

Funding has been contributed by Greater Wellington Regional Council, Kānoa (MBIE Regional Economic Development & Investment Unit), and Masterton, South Wairarapa and Carterton District Councils.
GNS Science has also partnered with Kānoa (MBIE Regional Economic Development & Investment Unit) under the Aqua Intel Aotearoa programme to collect SkyTEM data in the Far North and Southland (Oct-Dec 2022) and in Gisborne (Feb-March 2023) with these projects ongoing.

These projects follow on from the similar Hawke's Bay 3D Aquifer Mapping project that collected SkyTEM data in 2020. GNS scientists are currently working with Hawkes Bay Regional Council on the creation of hydrogeological models from the collected data. Already, interactive story maps have been generated for the public to help them better understand the data and models.
Find more content related to:
GNS Science areas
GNS Science topics