Staff profiles
Richard Kellett
Environmental Processes and Modelling Team Leader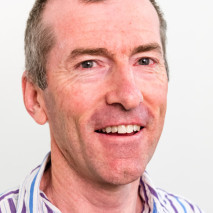 Department
Environmental Processes and Modelling
Contact me
Qualifications
BSc(Hons), Geophysics
PhD, Geodynamics
Areas of expertise
Geophysics: Aeromagnetic Interpretation
Geophysics: Seismic reflection processing
Geophysics: Seismic tomography
Geophysics: Seismic-well ties
Geophysics: Marine Geophysics
Geophysics: Seismic Stratigraphy
Geophysics: Exploration Geophysics
Geophysics: CSAMT, MT
Geophysics: Seismic interpretation
Geophysics: Shallow water geophysics
Geophysics: Remote sensing
Geophysics: Airborne EM Interpretation
Geophysics: Electrical resistivity tomography
Geophysics: Electromagnetic Methods
Major Publications
See all publications

3D active source seismic imaging of the Alpine Fault zone and the Whataroa glacial valley in New Zealand

, Journal of Geophysical Research. Solid Earth 126(12):

e2021JB023013.

DOI: 10.1029/2021JB023013.

Chatham Islands cabled observatory science opportunities: Workshop 23–24 February 2021 Summary Report

DOI: 10.21420/K1BM-RP28.

Geophysical signatures of New Zealand epithermal Au-Ag deposits, and methods for new exploration

, New Zealand Journal of Geology and Geophysics 62(4):

p. 442-460.

DOI: 10.1080/00288306.2018.1548494.