New Zealand Hydrogen Symposium 2024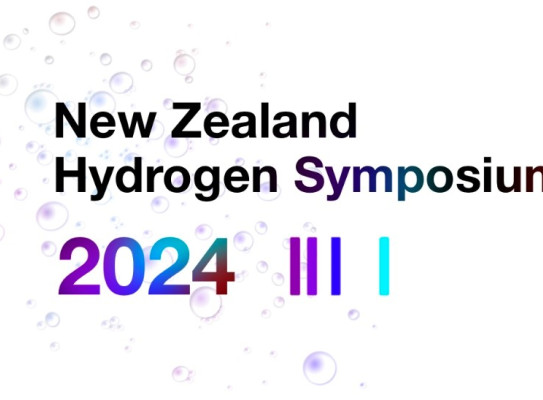 Wednesday 31 January – Friday 2 February 2024

Te Papa, Wellington, Aotearoa New Zealand
We are pleased to announce the second New Zealand Hydrogen Symposium (NZHS2 2024) hosted by GNS Science. This international research symposium series is supported by the New Zealand Hydrogen Council.
NZHS2 2024 is a international research symposium
We are bringing together the latest work supporting the development of a global hydrogen economy.
Themes this year will include the production, storage, distribution, and utilisation of green hydrogen as well as whole-of-system considerations and the techno- and socio-economic effects of our coming hydrogen economy.
Key Dates
24 July 2023 – Call for abstracts & registration opens
Extended 15 Dec 2023 – Abstract submission deadline
18 Dec 2023 – Author notification
30 Dec 2023 – Early registration deadline
Schedule

Wednesday 31January

08:30 - Opening

09:00 - Morning sessions pt.1

10:20 - Morning tea

10:50 -Morning sessions pt.2

12:00 - Lunch

13:00 - Afternoon sessions pt.1

14:45 - Afternoon Tea

15:20 - Afternoon sessions pt.2

17:00 - Closing

Thursday 1 February

08:25 - Welcome

08:30 - Poster Session, judging and prizegiving with a breakfast buffet

10:00 - Morning sessions

12:00 - Lunch

13:00 - Afternoon sessions pt.1

14:45 - Afternoon Tea

15:20 - Afternoon sessions pt.2

17:00 - Closing

19:30 - Late (TBC) - Conference Dinner

Friday 2 February

09:00 - Opening

09:15 - Morning sessions pt.1

10:20 - Morning Tea

10:50 - Morning sessions pt.2

12:00 - Lunch

13:00 - Afternoon sessions pt.1

14:45 - Afternoon Tea

15:00 - Afternoon sessions pt.2

15:40 - Closing

TBC - Site Visits

Session themes & chairs

Hydrogen production

Including but not limited to: catalytic materials, electrochemistry, electrolyser analysis and design, bio-hydrogen, plasma methods, and natural hydrogen.

Prof Geoff Waterhouse, Dr Aaron Marshall, Dr Suren Wijeyekoon, Dr Jingjing Liu

Hydrogen storage and distribution

Including but not limited to: ammonia, solid state materials, geological storage, liquid organic carriers, MOFs, embrittlement, and hydrogen distribution network.

Dr Prasanth Gupta, Dr Luke Liu, Dr David Dempsey, Dr Fei Yang, Dr Ludmila Adam, Prof Nigel Lucas

Hydrogen utilisation

Including but not limited to: fuel cells, turbines and combustion engines, heavy vehicles, hydrogen-substituted industrial processes (including steel and ammonia production), and CO2 valorisation.

Prof Chris Bumby, Dr Jim Hinkley, Mr Robert Holt, Dr Alex Yip

Hydrogen energy systems

Including but not limited to: grid connections, techno-economic models, and energy resilience.

Dr Jannik Haas, Dr Rebecca Peer, Dr Selena Sheng, Dr Vedran Jovic, Prof Michael Jack

Cross-cutting topics

Including but not limited to: community projects, decarbonisation, social acceptance, new facilities, safety, sensors, and standards.

Dr Kēpa Morgan, Dr Michelle J Cook, Dr Smrithi Talwar, Prof Sally Brooker


Speakers

Plenary speakers

Prof Rose Amal – ARC Laureate Fellow, University of New South Wales, Australia
— Solar Harvesting through Catalysis to Make Chemicals and Fuel

Prof Bruno Pollet – President of the Green Hydrogen Division, International Association for Hydrogen Energy, Canada
— Electrolysers – Challenges and Opportunities

Dr Patrick Hartley – Mission Leader, CSIRO Hydrogen Industry Mission, Australia

Mr Ohira Eiji – Department Director General, NEDO, Japan

Prof Ajayan Vinu – Director GICAN, The University of Newcastle, Australia

Prof Thomas Klassen – Director, Institute of Hydrogen Technology, Helmholtz Zentrum Hereon, Germany
— Hydrogen Storage: From Materials to Components

Invited speakers

Jacqui Sutton – Lochard Energy

Dr Alaa Alhamwi – DLR Institute of Networked Energy Systems

Dr Hans-Christian Gils – DLR Institute of Networked Energy Systems

Dr Selena Sheng – University of Auckland

Dr Brandon C. Wood – Lawrence Livermore National Laboratory

Prof Lianzhou Wang – The University of Queensland

Dr Noel Duffy – CSIRO

Prof Douglas Macfarlane – Monash University

Invited speakers will be updated as they are confirmed.

Conference dinner

Thanks to the generosity of our sponsors, your registration fee includes drinks and a three-course meal at our Conference dinner.

This will be held in the same venue as the symposium on the evening of Thursday 1 February. The dress code for the event will be smart-casual.

We look forward to seeing you there for a great evening of networking and celebration.

Present at NZHS2 2024

Call for presenters

We are delighted to invite you to be a part of the upcoming New Zealand Hydrogen Symposium (NZHS2) 2024. This prestigious event brings together researchers, scholars, and professionals from various disciplines within the green hydrogen ecosystem.

Showcase your work: This is a remarkable opportunity to present your research findings, discoveries, and advancements to a diverse and engaged audience. Gain recognition for your work and receive valuable feedback from esteemed experts in your field.
Networking: Connect with like-minded professionals, forge new collaborations, and expand your professional network. Engage in insightful discussions and exchange ideas with peers, mentors, and potential collaborators from academia and industry.
Professional development: Enhance your knowledge and skills through attending inspiring keynote speeches and engaging panel discussions.


We invite researchers to submit abstracts(external link). Join us and share your expertise and contribute to the success of NZHS2 2024.

Register today(external link) and secure your spot at NZHS2 2024. Embrace this unique opportunity to be part of an exceptional gathering of researchers, where knowledge is celebrated, connections are forged, and innovation thrives.

Registration fees

Our registration fees for the 2024 New Zealand Hydrogen Symposium are:

General Attendance: NZ$450
Student: NZ$200

Please note, if you are registering for the student rate, you will be asked to provide your student details.

You can register here(external link) using a Visa or Mastercard credit card.

Registration fees include entrance to our Gala Dinner, to be held on the evening of Thursday 1 February, also at Te Papa.

These low prices have been made possible by our generous sponsors.

Committee

Chair NZHS2 2024

John V Kennedy, GNS Science

Deputy Chairs NZHS2 2024

Chris Bumby, Paihau-Robinson Research Institute, Victoria University of Wellington

Michelle J Cook, GNS Science

Robert Holt, Callaghan Innovation

Local Organising Committee NZHS2 2024


Nick Kirkman, Event Coordinator

Jim Hinkley, Victoria University of Wellington

Kim McKelvey, Victoria University of Wellington

Luke Liu, Victoria University of Wellington

Prasanth Gupta, GNS Science

Vedran Jovic, GNS Science

NZHS Series Planning Committee

Aaron Marshall, University of Canterbury

Anna Garden, University of Otago

Fei Yang, University of Waikato

Geoff Waterhouse, The University of Auckland

Jannik Haas, University of Canterbury

John Kennedy, GNS Science

Jonathan Kitchen, Massey University

Jonathan Leaver, Unitec

Kēpa Morgan, Mauri Model

Linda Wright, NZ Hydrogen Council

Ludmila Adam, The University of Auckland

Luke Liu, Victoria University of Wellington

Paul Bennett, Scion

Rebecca Peer, University of Canterbury

Robert Holt, Callaghan Innovation

Sally Brooker, University of Otago

Simon Kelly, Lincoln Agritech