Cyclone Gabrielle uncovers new secrets set in stone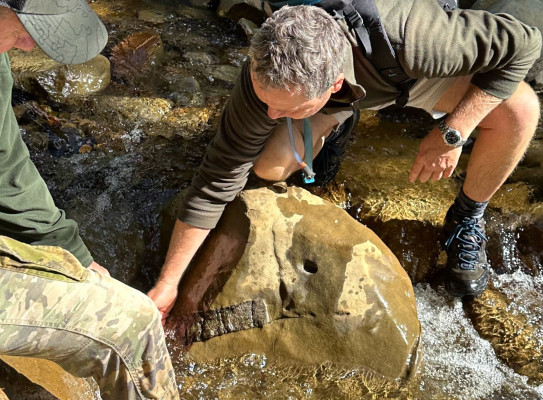 Roaring rivers that raged in Maungataniwha have revealed a number of previously undiscovered fossils.
Among the discoveries are two boulders with large vertebrae, potentially from enormous marine reptiles that lived over 80 million years ago.
When Cyclone Gabrielle brought devastation on Hawke's Bay in February, streams and rivers deep in the forests of the region's mountainous hinterland became raging torrents.
The pressure of millions of cubic metres of rainwater sluicing through the narrow valleys scoured riverbeds and overturned rocks the size of shopping-trolleys.
Recently, it was found that the storm revealed an untold number of previously undiscovered fossils, linking to our ancient past that might otherwise have remained hidden for eternity.
Many 'new' fossils were found in a single outing in late March
Staff and volunteers from the Forest Lifeforce Restoration Trust made the discovery while assessing storm damage at a property in the Maungataniwha Native Forest in northern Hawkes Bay.
The fossils are contained within rocks in the disturbed bed of the Mangahouanga Stream. The "new" fossils had lain covered since renowned New Zealand palaeontologist Joan Wiffen and her team discovered New Zealand's first dinosaur fossils there in 1975.
"It's like a giant has walked down the stream-bed, kicking at rocks and boulders as if they were pebbles and turning everything over as he goes," said the Trust's forest manager Pete Shaw, an experienced fossil hunter. In 2019 Pete was awarded the Harold Wellman Prize by the Geoscience Society of New Zealand for his work on fossils in the Maungataniwha Native Forest.
The Mangahouanga Valley is famous among New Zealand geologists
The region consists of an extensive late Cretaceous sandstone unit, yielding a plethora of fossil marine reptiles and dinosaurs.
"If any one place is the epicentre of New Zealand palaeontology then Maungataniwha, and particularly the Mangahouanga Stream, is probably it," Mr Shaw said.
For decades palaeontologists, geologists, fossil fossickers and trampers have traversed the Mangahouanga Valley, frequently finding something of interest or significance. But never on the scale experienced on this single outing.
Pete Shaw is now working with our experts at GNS Science in Wellington to identify the finds from his team's outing in March.
National Paleontological Collection manager Marianna Terezow has so far tentatively identified two fossil vertebrae as potentially from elasmosaurus, an enormous marine reptile (not technically a dinosaur but the marine equivalent that existed at the same time) that could reach up to 14 metres long, although much of this would have comprised its long, snake-like neck.
Other vertebrae discovered on the day could potentially have come from a mosasaur.
While mosasaur fossils have been discovered before in New Zealand, they are not particularly common. The first discoveries were in the Waipara, followed by others at Shag Point in Otago and Haumuri Bluff in southern Marlborough. Fossilised mosasaur teeth were among the many discoveries made by Joan Wiffen in the Mangahouanga Stream and in 2015 Mr Shaw discovered part of a mosasaur jaw with giant, well-preserved teeth.
GNS Science has a long-standing relationship with the Forest Lifeforce Restoration Trust. Over the past decade its palaeontologists have worked closely with the Trust and Mr Shaw, who leads several conservation initiatives in the area on behalf of the Trust.
Like similar finds from the area, the fossils are stored at Waiau Camp in the Maungataniwha Native Forest by the Forest Lifeforce Restoration Trust, so the remain on the same whenua where they were found.
"Each new fossil find is like a page out of that story book and it is great to have knowledgeable and skilled people like Pete Shaw and his colleagues making these new discoveries." Ms Terezow said.
Find more content related to:
GNS Science areas
GNS Science topics