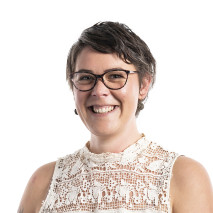 Department
Geological Mapping & Stratigraphy
Contact me
Biography
Georgia is sedimentologist within the Surface Geoscience Department. Her research interests focus on climate variability in recent periods and past warmer climates, including Antarctic Ice Sheet and sea-level change. She analyses the statistical frequency of physical and geochemical characteristics of shallow-marine and deep-marine sediment cores.
Qualifications
BSc, Geology
MSc, Geology
PhD, Geology
Areas of expertise
Business Development: Well site biostratigraphy
Business Development: Antarctic Geology
Business Development: Climate Science
Business Development: Sea-level Rise
Major Publications
See all publications

Amplified surface warming in the Southwest Pacific during the mid-Pliocene (3.3–3.0 Ma) and future implications

, Climate of the past 19(7):

p. 1359-1381.

DOI: 10.5194/cp-19-1359-2023.

Expanded North Pacific Subtropical Gyre and heterodyne expression during the Mid-Pleistocene

, Paleoceanography and Paleoclimatology 37(5):

e2021PA004395.

DOI: 10.1029/2021PA004395.

Pliocene sea level revisited : is there more than meets the eye?

, PAGES Magazine 29(1):

p. 34-35.

DOI: 10.22498/pages.29.1.34.

The amplitude and origin of sea-level variability during the Pliocene epoch

, Nature 574(7777):

DOI: 10.1038/s41586-019-1619-z.

High-resolution magnetostratigraphy of mid-Pliocene (3.3-3.0 Ma) shallow-marine sediments, Whanganui Basin, New Zealand

, Geophysical Journal International 217(1):

p. 41-57.

DOI: 10.1093/gji/ggz004.

Mid- to late Pliocene (3.3–2.6 Ma) global sea-level fluctuations recorded on a continental shelf transect, Whanganui Basin, New Zealand

, Quaternary Science Reviews 201:

p.241-260.

DOI: 10.1016/j.quascirev.2018.09.044.
External Profiles