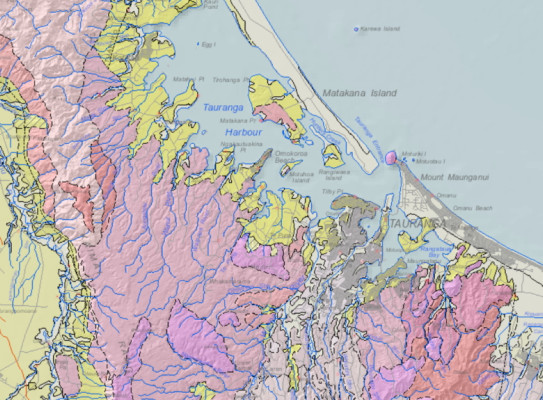 Geological Summary
The geology of Tauranga is dominated by a substrate of Pliocene rhyolite-dacite lava domes (for example, Mount Maunganui) and Quaternary rhyolitic ignimbrite exposed inland. These volcanic deposits are overlain by fluvial and marine sediments, particularly around the harbour, valleys and the coast.
Maps and Information
There are no geological mapping projects underway or imminent in the Tauranga area. Previously completed maps include:
2010/2018: QMAP 1:250 000 geological map
For wider and more generalised geological context of the Tauranga area, a 1:250 000 geological map was printed with accompanying explanatory text. Digital GIS and image versions of the map are available on DVD. The digital version has since been updated in a national GIS dataset at that nominal scale. The underlying GIS datasets have rich feature attributes.

A geological map image can be downloaded(external link) or interrogated through the geological map application(external link). For GIS users, the QMAP geological feature layers can be downloaded from GNS Science's Web Map/Feature Service(external link).
1996: University of Waikato 1:50 000 geological map
The city area of Tauranga is covered by a 1:50 000 geological map published by the University of Waikato (Briggs et al. 1996).