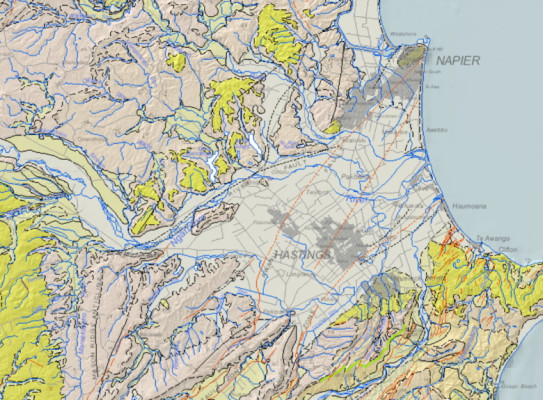 Geological Summary
The geology of the Napier-Hastings area is dominated by Late Quaternary alluvial and marine sediments forming the Heretaunga Plains. These overlie older Quaternary sediments that are exposed in lower hills and these in turn overlie Pliocene alternating mudstone, sandstone and limestone.
Maps and Information
The Napier-Hastings urban and urban fringe areas are part of a current geological mapping initiative that has a completed new geological map, 3D geological model and a forthcoming geomorphological map.
Urban Maps
2022: Napier-Hastings Geological Map Product
The Napier-Hastings geological map product includes a geological map, a geomorphological map and a 3D geological model with an explanatory text.
3D geological model
The 3D geological model provides a representation of the subsurface geology that extends over the Napier, Hastings, Havelock North and Flaxmere urban areas. The 3D geological model is presented with two levels of detail. The generalised version has four geological units: Paleocene to Early Pleistocene; Early to Middle Pleistocene; Maraekakaho Formation and Heretaunga Formation. The detailed version has the same first three units and the Heretaunga Formation is subdivided into two members and six informal lithofacies.
The 3D geological model is available and viewable using freely downloadable Leapfrog Viewer(external link) 3D visualisation software or as 2D and 3D surfaces viewable using other 3D modelling and GIS software. These data can be downloaded from links included in the metadata(external link) associated with the Napier-Hastings 3D Geological Model. The explanatory text(external link) for the 3D geological model can be downloaded from the GNS Online Shop.
1:75 000 geological map
This 1:75 000 scale map provides updated geological mapping for the Napier-Hastings urban areas. New information includes detailed mapping of Pliocene–Quaternary-age rocks in the hills northwest of Napier and the Ngaruroro River, new formations introduced to encompass Holocene river and marine deposits, and revision of surficial and sub-surface traces of potentially active faults. The map provides geological context for the landscape features within this dynamic part of North Island's east coast.
Rocks present in the map area record the development of the Hikurangi subduction margin and deformation associated with it. The oldest rocks present are Eocene to Miocene-age deep-marine mudstone and sandstone, distributed in fault-controlled northeast–southwest-trending strips east of Havelock North. Pliocene- to Quaternary-age shallow-marine limestone, mudstone, and sandstone overlie the Miocene rocks and form the hill country that immediately surrounds the Napier-Hastings urban areas. Conglomerate, pumiceous sandstone, carbonaceous mudstone, and volcaniclastic deposits of early to middle Quaternary age, are preserved at Cape Kidnappers, south of Havelock North, and as isolated remnants on hilltops west of Napier. Middle to late Quaternary alluvial fan and marginal-marine sediments were deposited by rivers and coastal processes. The Awanui and Tukituki faults are steeply-dipping reverse faults with surface traces exposed in the south of the map area but are buried beneath the plains farther north.
A pdf version of the geological map(external link) can be downloaded for free from the Online Shop. The digital geological data also can be accessed via ArcGIS Server(external link) web services. GIS layerfiles that reference and symbolise the web service layers are available for use in ArcGIS(external link) (ArcMap and ArcGIS Pro) and QGIS(external link). Metadata(external link) describing the various geological data are also available.
To view the Napier-Hastings geological map in more detail use this link(external link) or click on the image above.
Lee JM, Begg, JG, Bland KJ. 2020. Geological map of the Napier-Hastings urban area. GNS Science geological map 7a. GNS Science, Lower Hutt, NZ.
Other Information
2011/2018: QMAP 1:250 000 geological map
For wider and more generalised geological context of the Napier-Hastings area, a 1:250 000 geological map was printed with accompanying explanatory text. Digital GIS and image versions of the map are available on DVD. The digital version has since been updated in a national GIS dataset at that nominal scale. The underlying GIS datasets have rich feature attributes.
Lee, J.M.; Bland, K.; Townsend, D.B.; Kamp, P.J.J. (compilers) 2011. Geology of the

Hawke's Bay area

(external link)

. Institute of Geological & Nuclear Sciences 1:250 000 geological map 8. Lower Hutt, New Zealand. Institute of Geological & Nuclear Sciences Limited. 93 p. + 1 sheet.
Heron, D.W. (custodian) 2018.

Geological Map of New Zealand 1:250 000

(external link)

. GNS Science geological map 1 (2nd edition). Lower Hutt, New Zealand. GNS Science.
For more information on the 1:250 000 Geological Map of New Zealand visit its web page(external link).
1970: 1:63 360 Napier and Hastings-Kidnappers geological map
The city area of Napier-Hastings is covered by a 1:63,360 geological map published in 1970 (Kingma 1970). This is a printed map with limited accompanying text and no digital equivalent.