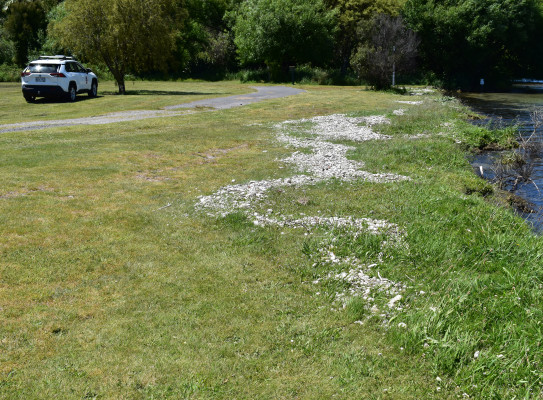 Our experts have been busy collecting and analysing data to help us understand exactly what happened during and following the M5.7 earthquake at Lake Taupō on 30 November, including ground shaking, landslides, volcanic activity and tsunami. Here is an update on what we know so far.
Aftershocks
Following the M5.7 Taupō earthquake we have located over 680 aftershocks (as of this story being published), with the most recent felt aftershock being a M3.4 on 12 December(external link). The aftershock sequence (size of events and numbers) is as we would have expected for a mainshock of M5.7.
You'll likely notice the reported magnitude has increased since our initial reporting by 0.1 units to 5.7. This reflects the greater accuracy we have been able to bring to the earthquake analysis since the earthquake happened.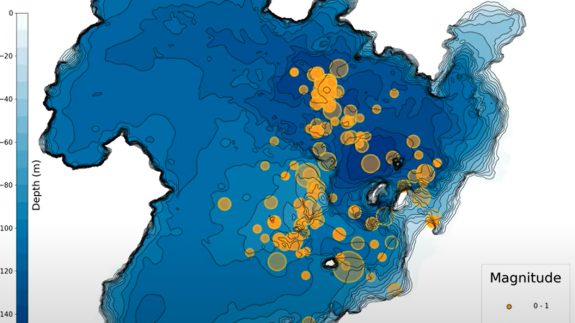 The magnitude and rate of aftershocks has started to decline but is expected to continue for several weeks. This can be seen in the timeseries below:
Within the next 30 days, there is an estimated 11% chance (very unlikely) that there will be an earthquake of magnitude 5 or above in the Taupō area (as shown in the animation above). This will be our last forecast for this event. Read more about the forecast and other facts on the earthquake here(external link).
Ground Deformation (Movement)
In addition to the shaking of the ground during the earthquake, our sensitive GNSS (Global Navigation Satellite System – commonly referred to as GPS) instruments(external link) in and around Lake Taupō measured ground movement. Our instrument at Horomatangi reef (TGHO) moved 18 cm upwards during the earthquake and 25 cm to the southeast, which is the largest ever recorded ground movement at this location. The station has also shown what is called 'post seismic deformation'; it moved a further 4 cm to the southeast in the week following the earthquake. GNSS stations onshore are recording a much smaller movement (~10 to 20 mm) associated with the earthquake.
Find more content related to:
GNS Science areas
GNS Science topics