New Chief Executive and Board Chair welcomed to GNS Science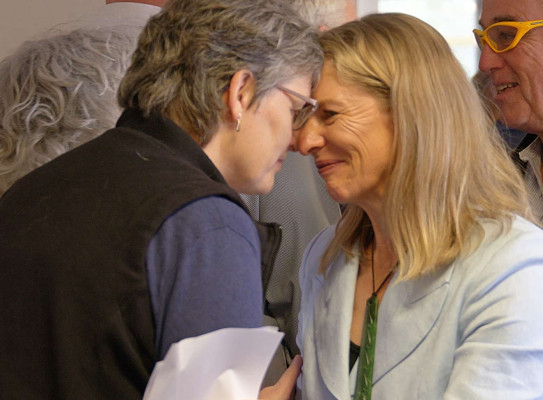 GNS Science welcomed new Chief Executive, Chelydra Percy, and new Board Chair, David Smol, to the organisation on Monday.
Leading the pōwhiri, Kaumatua Joe McLeod, Deputy Board Chair John Sharpe, and Interim Chief Executive Peter Benfell, welcomed Chelydra and David at a gathering of GNS Science staff, as well as friends, family, and former colleagues of the two new appointments.
John shared his excitement about the opportunities that lie ahead for GNS to help New Zealand communities prosper.
"We are forging a pathway to the future, and I believe [GNS has] all the success measures in place to guide us there – a shared vision, a Science Roadmap, a strategic view, and some of the best science minds in the world. I am very much looking forward to working with you both to create a cleaner, safer, more prosperous Aotearoa New Zealand".
Chelydra responded with her excitement to be joining a team that is so passionate about creating positive impact for Aotearoa and the world.
Chelydra comes to GNS Science following nine years as Group Chief Executive of BRANZ (Building Research Association of New Zealand). She has significant experience in the CRI sector, having worked previously at Callaghan Innovation, AgResearch, and Scion. She succeeds Interim Chief Executive Peter Benfell, who has led GNS over the past seven months, and who now returns to a General Management position within the organisation.
David Smol brings a wealth of experience to the GNS Science Board having spent the past 35 years working with businesses and governments to deliver both commercial and social projects, including housing, urban and economic development, tourism, science system management, natural hazards and resilience, and resource management reform.
He succeeds Dr Nicola Crauford who has stepped away from the GNS Board after almost eight years as Chair. Nicola has made an invaluable contribution to GNS Science during her time with us, and we are better placed thanks to her efforts to deliver excellent and impactful science for the good of Aotearoa and the world.