Mission to drill further and deeper into West Antarctica for sea level secrets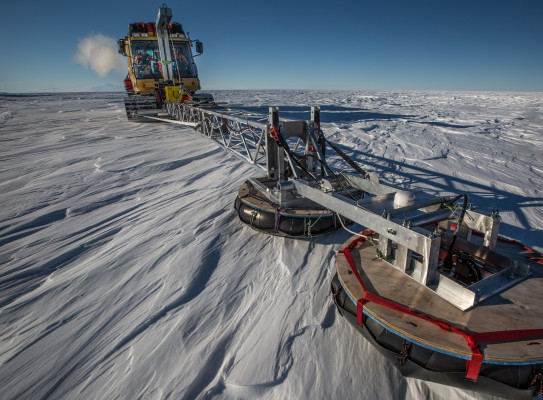 An international team co-led by GNS Science and Te Herenga Waka - Victoria University of Wellington is embarking on an expedition to recover a geological climate record from further and deeper into the West Antarctic Ice Sheet than has ever been obtained, to understand how quickly the ice sheet will melt and how much sea level rise to expect.
Recent science has shown that it is inevitable that the warming Southern Ocean will speed up the melting of parts of the West Antarctic Ice Sheet (WAIS) regardless of our future carbon dioxide emissions. The WAIS holds enough ice to raise sea level by five metres if completely melted.
While we are committed to sea level rise, we aren't yet certain how much and how fast the ice in West Antarctica will melt. Parts of the WAIS appear highly vulnerable, but it's unclear when and under what climatic conditions we will we lose the large buttressing ice shelves that stabilise the ice inland and slow its flow into the ocean. To help answer this question, we have to turn to the geological record and recover sediment from regions near the centre of West Antarctica that were deposited during past times when it was warmer than today.
These sediments hold environmental information that is key to our future but, until now, has been impossible to obtain.
Astronauts have collected over 2,400 rock and mineral samples from different locations on the moon since the first landing in 1969. However, there are only 13 locations beneath the ice blanketing West Antarctica where scientists and researchers have recovered geological samples. That's about to change when an international team of researchers and drillers leave Christchurch for Antarctica on 16 November.
The Sensitivity of the West Antarctic Ice Sheet to Two Degrees of Warming (SWAIS2C for short) project seeks to determine whether the Ross Ice Shelf and West Antarctic Ice Sheet will melt as Earth's average surface temperature approaches 2°C above those that characterised our planet before the industrial era.
"It is the goal of the Paris Agreement to keep global warming to well below 2°C. Yet we do not know whether the West Antarctic Ice Sheet will lose most of its ice at 1, 2, or 3 degrees of warming, committing us to several metres of sea level rise," says Tina van de Flierdt, Co-Chief Scientist of the SWAIS2C project.
To understand more about Antarctica's potential contribution to sea-level rise, a team of drillers, engineers, and researchers will travel ~1100 km via Antarctica New Zealand's traverse (a convoy of polar vehicles pulling sleds) and airplane to the southeast margin of the Ross Ice Shelf. They will tackle ice and ocean to drill up to 200 m below the seafloor to recover a geological record of changing rock types that reflect environmental conditions at the time they formed. The hope is that these records will provide key insights into West Antarctica's past and the Earth's future.
"We will use a custom-built hot water drill to melt a 35 cm diameter hole through 590 m of ice to access the 50 m thick ocean cavity near where land ice begins to float and form an ice shelf. We will then position a special sediment coring system over the hole, lower a diamond-studded hollow drill bit to the ocean floor, and drill down to obtain a long sedimentary record from well-below the seafloor of West Antarctica," said Darcy Mandeno, the Drilling Operations Manager for SWAIS2C.
The team calls SWAIS2C "the discovery for our lifetime" and hopes that results will guide plans to adapt to unavoidable sea level rise, while amplifying the imperative to mitigate global greenhouse gas emissions.
"Our approach to drilling is novel and not without risk, but it's the only way we are going to get those critical samples. If we are successful and prove that this new drilling system will work, it will open up new opportunities to obtain key records of environmental change and ice sheet dynamics at other remote locations across Antarctica," said Levy.
"Retrieving samples from such remote locations in Antarctica will allow us to build a much better picture of how Antarctic ice will respond to future warming, which parts will melt first, and which parts will remain. We will use the past to learn about the future. This knowledge is critical as humanity grapples with the unavoidable challenge of sea level rise," said van de Flierdt.
More than 120 people from around 35 international research organisations, including around 25 early-career researchers are collaborating on the SWAIS2C project. SWAIS 2C brings together researchers from New Zealand, the United States, Germany, Australia, Italy, Japan, Spain, Republic of Korea, the Netherlands, and the United Kingdom.
Antarctic field operations are scheduled to begin in November 2023 on the Kamb Ice Shelf and will continue through 2024. A second field season will begin in November 2024 at the Crary Ice Rise.
Main photo: Antarctica New Zealand's Pistenbully equipped with a Ground Pentetrating Radar to detect crevasses. Credit: Neil Silverwood, Antarctica New Zealand.
SWAIS2C management and funding

The SWAIS2C Project Manager is GNS Science and the Drilling Provider is Te Herenga Waka - Victoria University of Wellington. Logistical support comes from Antarctica New Zealand in collaboration with the United States Antarctic Program. Drilling is funded and supported by the International Continental Scientific Drilling Program (ICDP).

Total project operations and logistics will cost US$5.4 million. Significant additional funding and in-kind contributions have been provided by the Natural Environment Research Council, Alfred-Wegener-Institute Helmholtz Centre for Polar and Marine Research, Federal Institute for Geosciences and Natural Resources, National Science Foundation (NSF-2035029, 2034719, 2034883, 2034990, 2035035, and 2035138), German Research Foundation (grants KU 4292/1-1, MU 3670/3-1, KL 3314/4-1), Istituto Nazionale di Geofisica e Vulcanologia, Korea Polar Research Institute, National Institute of Polar Research, Antarctic Science Platform (ANTA1801), Leibniz Institute for Applied Geophysics, AuScope, and the Australian and New Zealand IODP Consortium. This project is the first in Antarctica for the International Continental Scientific Drilling Project (ICDP), and follows on from other successful international Antarctic research programmes such as ANDRILL.

Sea-level rise and the polar ice sheets

Earth's average surface temperature has warmed by 1.2°C since the Industrial Revolution due to human activities that include burning of fossil fuels. At the same time, sea level has risen an average 20 cm across the world, primarily due to the expansion of the ocean as it absorbs heat and melting of our planet's glaciers, land-based ice caps, and ice sheets.

We can expect further warming of between 1.4° to 4.4°C by 2100—the size of the increase depends on what socio-economic decisions society makes about our greenhouse gas emissions. An additional 30 cm of sea-level rise is unavoidable regardless of our emissions decisions, but the increase may be as much as 1 or 2 m if we follow a high-emissions pathway and potential instabilities in Antarctica's ice sheets play out.

Just how sensitive Antarctica's large ice shelves—and the marine ice sheets that sit behind them—are to warming between 1.5° and 2°C is a key element of research that will help better predict when and how much the polar ice sheets might melt.

Why the last interglacial period is important to understanding our future sea-level rise

Geological reconstructions from around the world indicate that during the last interglacial period 125,000 years ago, when Earth's average surface temperature was 1 to 1.5°C warmer than pre-industrial, sea levels were 6 m higher than today. These data suggest that parts or all of the West Antarctic Ice Sheet may have collapsed, highlighting a potential sensitivity to temperatures that we have already reached, and will certainly experience in the coming decade. SWAIS2C aims to obtain robust, direct evidence for potential ice collapse under different environmental conditions.