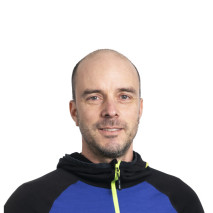 Biography
Yannik is a geophysicist and member of the AI and Advanced Analytics team in the Datascience and Geohazards Monitoring department. He has a keen interest in combining physics-based and statistical models and detecting anomalies in our observational data using machine learning. Yannik applies these interests to his work on seismic and volcano monitoring. His past work included ambient seismic noise tomography, seismic beamforming, and Earthquake Early Warning in New Zealand, California, and Europe.
Qualifications
MSc, Geophysics
PhD, Seismology
Areas of expertise
Geophysics: Seismology
Geophysics: Mathematical inversion techniques
Geophysics: Seismic tomography
Geophysics: Real-time seismological monitoring
Geophysics: Real-time seismological analysis
Geophysics: Data analysis
Geophysics: Data management
Geophysics: Applications of statistics
Geophysics: Time series techniques for data analysis
Geophysics: Volcanic surveillance
Geophysics: Strong motion accelerogram analysis
Geophysics: Seismograph array analysis
Information Technology: Shell scripting
Information Technology: Python
Geophysics: Noise interferometry
Geophysics: Earthquake Analysis - SeisComP3
Information Technology: Machine Learning
Information Technology: C/C++ programming
Major Publications
See all publications

Continuous estimates of heat emission at Mt. Ruapehu using the Unscented Kalman Smoother

, Journal of applied volcanology 12(1):

article 1.

DOI: 10.1186/s13617-022-00125-y.

Towards real-time probabilistic ash deposition forecasting for New Zealand

, Journal of applied volcanology 11(1):

article 13.

DOI: 10.1186/s13617-022-00123-0.

Anatomy of an earthquake early warning (EEW) alert : predicting time delays for an end-to-end eew system

, Seismological Research Letters 86(3):

p. 1-11.

DOI: 10.1785/0220140179.

Source directionality of ambient seismic noise inferred from three-component beamforming

, Journal of Geophysical Research. Solid Earth 118(1):

p. 240-248.

DOI: 10.1029/2012JB009382.

The benefit of hindsight in observational science: retrospective seismological observations

, Earth and Planetary Science Letters 345-348:

p. 212-220.

DOI: 10.1016/j.epsl.2012.06.008.

ObsPy : a python toolbox for seismology

, Seismological Research Letters 81(3):

p. 530-533.

DOI: 10.1785/gssrl.81.3.530.