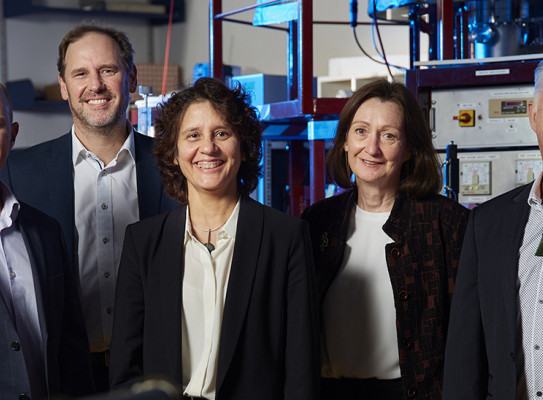 As a CRI, we operate as a limited liability company and we are governed by an independent Board of Directors.
Our Board Members
Dr Nicola Crauford - Chair

Dr Nicola Crauford - Chair
BSc (Hons), PhD, DistFEngNZ, FAICD, CFInstD

Nicki has extensive governance and senior management experience in energy, water and telecommunications utilities. She brings a combination of technical, commercial and strategic skills to the Board. As well as utilities, her governance portfolio has spanned science research and development, fire and emergency management and environmental protection and regulation.

Nicki has a degree in chemical engineering from the University of Newcastle upon Tyne and a doctorate in applied science from the University of Southampton. Nicki chairs the Electricity Authority, is a director of Watercare Services and CentrePort, and is a trustee of the Wellington Regional Trust Stadium.

She is a Distinguished Fellow of Engineering New Zealand, a Fellow of the Australian Institute of Company Directors, and a Chartered Fellow of the Institute of Directors in New Zealand.

Paul White

Paul White
B Arch, MBS

Paul is from the Ngāi Tūpoto hapu- of Te Rarawa iwi and has had a 30-year background in Māori development and governance, and wide experience in the public service. He is currently a management and development consultant and professional director and lives in Rawene in the Far North.

Over the past 20 years, Paul has served on the boards of Housing New Zealand, Canterbury District Health Board, FITEC, Health Sponsorship Council, Top Energy and the asset holding group of Te Rarawa Iwi. He is currently on the Executive of Te Matapihi – a national Māori housing body, and Heritage NZ's Council.

Previously Paul was the Chief Executive of Ngāi Tahu Development Corporation, Regional Director for Te Puni Kōkiri in Te Tai Tokerau, and Regional Manager for the Housing Corporation in Northland.

Dr John Sharpe

Dr John Sharpe
BSc, MSc (Tech), PhD, CMInstD

John has held a number of executive leadership and director roles in early-to-mid-stage technology companies in Aotearoa New Zealand and the USA.

Trained in the physical sciences, he has spent much of his career developing and commercialising biomedical equipment and other sensor technologies with applications in primary industries, life sciences research, and human health.

He has also been involved in state-owned and industry research organisations carrying out science and undertaking business development activities.

Felicity Evans

Felicity Evans
Graduate of the Australian Institute of Company Directors (GAICD)

Felicity has more than 25 years' experience in the finance industry, including in retail and commercial banking and human resources.

She was formerly the General Manager Talent and Culture for ANZ New Zealand and Pacific. She is a graduate of the Australian Institute of Company Directors, a Chartered member of NZ Institute of Directors, an Associate of the Bankers' Institute of New Zealand, a former Trustee of Diversity Works, and a former Director of Global Women NZ.

Andrew Cordner

Andrew Cordner
LL.B (Hons); LL.M; B.Com

Andrew is Director of Legal at Fonterra. In this role, Andrew serves as Fonterra's General Counsel and leads the highly experienced Fonterra Global Legal Team, with lawyers based in New Zealand, Australia, China, Chile, the Netherlands, the United States, and Brazil.

Andrew also serves as Company Secretary to the NZX-listed Fonterra Shareholders' Fund (NZX:FSF).

Prior to joining Fonterra in 2007, Andrew was a partner at Foley Hoag LLP, a leading US corporate law firm, specialising in corporate and commercial advisory work, venture capital, bankruptcy, intellectual property, mergers and acquisitions, securities law, and international transactions.

He has a LL.B (Hons) and B.Com from Canterbury University and an LL.M from Duke University School of Law. Andrew is currently a member of the NZ Law Society's National Standards Committee, which investigates and considers complaints that are sufficiently major, complex or of public interest or importance to the NZ legal profession. He is also a member of the Board of Trustees of St Andrew's Village, a large, aged care charitable trust.

Wendy Venter

Wendy Venter
FCA, MInstD

Wendy is a board director and independent consultant with expertise in governance, risk management, organisational change and assurance. She is a former partner at EY, deputy chief executive at the Ministry of Social Development and assistant auditor general.

Wendy is a director of Plant and Food Research and a trustee of Wellington's Nikau Foundation. She is an independent member of the Treasury's Audit Committee for the Government Financial Statements, and she chairs the risk and assurance committees of Stats NZ and the Parliamentary Counsel Office.

Wendy is a Fellow of Chartered Accountants Australia and New Zealand.
The governance structure for all CRIs is the same — shareholding ministers appoint CRI boards of directors, who in turn appoint the chief executive in accordance with the Companies Act and the constitutions of each CRI.

As a CRI, we operate as a limited liability company and we are governed by an independent Board of Directors. This structure allows us to:
focus on strategically important science at a national level
engage in the full spectrum of science, from basic research through to product development
undertake work for both the public and private sectors
operate internationally as well as within New Zealand
have autonomy, self-determination and financial independence
All of New Zealand's CRIs have 2 shareholding ministers, the Minister of Science and Innovation and the Minister of Finance.