GNS Science paleoclimatologist receives Blake Leader Award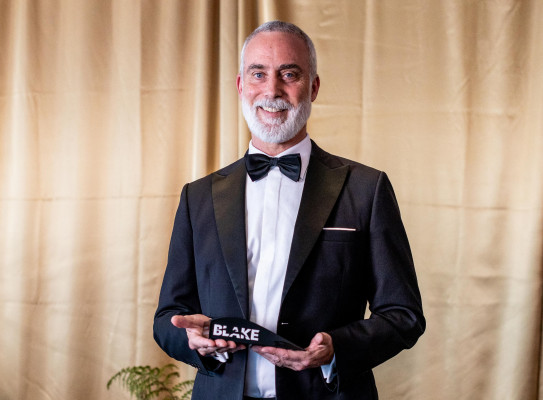 A GNS Science paleoclimatologist and a glacial stratigrapher has been awarded a Blake Leader Award for his work to better understand climate change.
Dr Richard Levy received one of four leader awards at a dinner last night in Auckland. Dr Levy is the Environment and Climate Research Theme Leader at GNS Science and leads high-profile research programmes investigating key climate change issues for New Zealand and the world.

The Blake Leader Awards recognise and celebrate people whose leadership has delivered high impact results and contributed to a more sustainable future for New Zealand.
GNS Science Chief Scientist Dr Gary Wilson says Richard is a team man. "He knows the hard goals will only be realised with a concerted team effort."
Dr Levy currently leads the Environment and Climate Research Theme at GNS Science (one of our four major research themes). Richard's 23 years of scientific research includes more than a decade leading the Past Antarctic Climates and Future Implications programme. His passion for discovery is evidenced through his leadership of some of New Zealand's major climate research projects, including the New Zealand SeaRise programme(external link), which aims to predict the level and impacts of sea level rise on New Zealand communities.

Dr Levy has spent much of his career striving to understand the role Antarctica and its ice sheets will play in a warming world – because what happens in Antarctica will shape what happens everywhere on the planet. He is currently co-leading a new project called SWAIS 2C(external link), which is designed to reveal the sensitivity of the Ross Ice Shelf and West Antarctic Ice Sheet to past warming.

Dr Levy says he is humbled by the award, alebit a little uncomfortable being in the spotlight.

"Using fossils, using life forms that have evolved through time … it helps us to untangle that history – how it began, how it's evolved to where we're at now, and where we're heading to in the future."

As well as determining the strategic direction of GNS' climate and environment research, Richard is also an Associate Professor at Victoria University of Wellington.
You can read a write-up about why Dr Levy received this award on the BLAKE website here.(external link)

This year's Awardees were selected in 2021 but the Awards dinner was postponed due to the pandemic.

In total, six Blake Leader Awards were presented including the Rangatahi (Youth) and Kaitiaki o te Taiao (Environment). Professor Sir David Skegg was presented with the Blake Medal for his leadership in health and epidemiology.
Find more content related to:
GNS Science areas
GNS Science topics