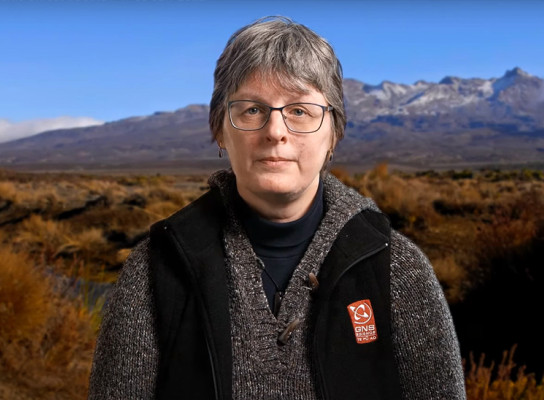 PhD (Volcanology) Lancaster University; MA Cambridge University; C.Geol (Chartered Geologist)
Gill's early career involved mineral exploration, geochemistry and 3D geological modelling for the British Geological Survey.
In 1995, she became involved in monitoring the eruption of the Soufrière, Hills Volcano in Montserrat. During her time on this Caribbean island, Gill became Director of the Monserrat Volcano Observatory, which operates to reduce the impact of volcanic activity.
Gill has been with GNS since 2006, in various roles including Head of Volcanology and Director of the Natural Hazards Division. In her current role as Science Theme Leader, Gill leads the development of the vision and strategy for the research and monitoring of New Zealand's geological hazards and risks.
Gill has guided GNS' responses to a number of nationally and internationally significant events and helped inform and influence government policy and decision making. Gill has developed a broad knowledge of the natural hazards and risks sector and she is deeply connected to its stakeholders, including emergency management agencies, and local and central government. She understands the critical importance of engaging with communities to create a shared understanding and find solutions together, as well as creating clear messages and appropriate communication channels to help communities understand, prepare for, and build resistance to natural hazards.
"I'm humbled by the calibre of people I get to work with every day, both at GNS and in the wider sector. Any response to a natural event is very much a team effort, and we are all focussed on delivering the best outcomes for our communities, whether that be in the quality of our research and monitoring, by having robust policies and plans in place or by helping on the frontline."
Gill co-leads the Communication and Assessment of geohazard risk for Science Advice CASCADE) project, which is a collaborative mechanism for increasing resilience to natural hazards, and she also provides advice to a range of international, national and regional governance groups.