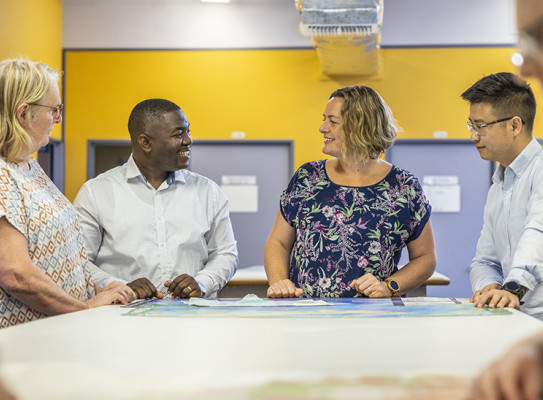 We're proud of the contribution our people make to New Zealand communities. From graduates and early career researchers, to internationally-renowned experts and award-winning teams, our people are what makes GNS Science great. Read some of their inspiring stories here…
Nicolas Pondard
Disaster Risk Management Specialist
Nicolas Pondard is a Frenchman and a senior disaster risk management specialist.
Working with the Planning and Risk Management team, Nicolas' job is to understand how natural hazards impact our society, and to explore what we can do to absorb those shocks. He identifies the risks communities are exposed to, both in New Zealand and overseas, and designs solutions to reduce these risks, like strengthening critical infrastructure and providing financial protection.
Researching disaster risk management gives Nicolas a sense of purpose, and he takes satisfaction knowing his work may help improve people's lives.
"Before coming to GNS, I worked for the World Bank, leading disaster risk management projects in East-Asia, Africa and the Mediterranean. During an identification mission, I met with young kids that were the same age as my children, equally playful and full of dreams. Unfortunately, their informal house had been built directly in a riverbed because there was no efficient risk management policy in place. Their house will likely be destroyed by a flood during a rain season, and these kids may not have any home, or even be alive. This stuck with me, and I just wanted to say that they are my inspiration to do this job."
Rachel Lawson
Social Science Technician
Rachel Lawson (Ngāruahine, Ngāti Ruanui): Rachel is a Social Science Technician who works in our Social and Behavioural Science team.
Rachel seeks to make the connection between physical sciences and people - investigating how communities experience phenomena (such as the Tongan eruption and tsunami) and how we can best support them with great communication, knowledge and resources to ensure they build resilience for the future.
Rachel gets to work across a wide range of science areas, particularly natural hazards and risks, energy futures and environment and climate. On any given day, you'll find her designing and analysing surveys, reviewing literature, creating socio-economic demographic profiles and maps and managing social science datasets.
Rachel's work is all about people. She's focused on the human impact of science research and discovery, and her long-term goal is to make it easier for people to access and understand science, by including social science data in physical science projects.
"For me, the best thing about working at GNS is collaborating with a team of talented and supportive wāhine in the Social and Behavioural science team, many of whom are top experts in our field. There are so many opportunities to grow and develop here and a real focus on mentoring."
Nancy Bertler
Lead Scientist - Ice Core Research Facility
GNS Science staff are part of a ground-breaking collaboration tackling the link between climate change, Antarctic ice melt, and sea level rise. The Melting Ice and Rising Seas team was awarded the Prime Minister's Science Prize in 2020 in recognition of their "transformative scientific discovery or achievement, which has had a significant economic, health, social, and/or environmental impact on New Zealand".
The team's findings have now been incorporated into New Zealand's national Coastal Hazards Guidance and are used by local government, iwi and other stakeholders across Aotearoa New Zealand.
The multi-institutional team includes Nancy Bertler, Richard Levy and Liz Keller of GNS Science, working alongside researchers from Victoria University Wellington and NIWA.
Xuemei Tang is a Planner in the Planning and Risk Management team. She has a degree in Political Science and is working towards her Masters' degree in Urban Planning.
Whilst relatively new to GNS, Xuemei has a wealth of global experience already – undertaking academic research for the French Centre for Research on Contemporary China in Hong Kong, researching and producing news for CNN's Beijing Bureau and working as a journalist for the New York Times and Al Jazeera.
Xuemei's work explores the integration between science and policy – basically how the research we do can be used to benefit communities. For her, it's all about making connections – how to we ensure there is a practical link between the science we do and the communities we live in. This is becoming increasingly important as people start to understand the impacts of climate change and start thinking about how they can contribute to better climate solutions and outcomes.
For Xuemei, the best thing about working at GNS is the amazing people. "GNS offers a great platform for us to utilise our diverse skills and collaborate. We are working on some cool, inspiring projects."
Lucy Kaiser
Maori Social Scientist
View bio
Lucy Kaiser (Kāi Tahu, Kāti Māmoe, Waitaha): Lucy is a driving force for the inclusion of communities, especially indigenous communities, in emergency management and natural hazard research. Building resilience to earthquakes, tsunami, and climate change are key areas for her work, which is grounded in both western science and Kaupapa Māori.
Lucy is an Early Career Achievement Award winner, and one of the recipients of the inaugural QuakeCoRE Te Hīkina o Rūaumoko Mātauranga Māori Research Award for excellence in mātauranga Māori earthquake resilience research and collaboration.
It's safe to say, Nick Mortimer has dedicated his life to science. Nick is a prolific and inspiring geologist who has helped change the way we think about Aotearoa New Zealand's geology and tectonics.
He is best known for his role leading Te Riu-a-Maui / Zealandia – Earth's eighth continent project. Nick's work has earned him a Lifetime Achievement Award, and he is renowned and respected around the world for his enormous contribution to the earth science community.